| | |
| --- | --- |
| And Here It Is… Merry Christmas! | |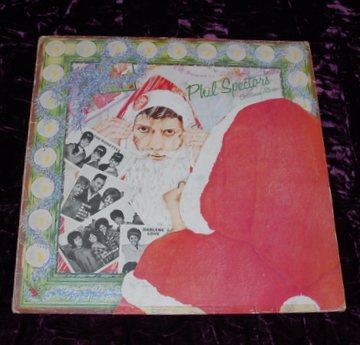 Mal: Now that it's December the Christmas records (yes, that's the vinyl) and CDs can be dusted off and come out to play. We have a ban on Christmas music the rest of the year – if anyone so much as starts humming 'Jingle Bells' from January to November we jump on them – but come early December, the Christmas-themed tunes are played full blast until the end of the year.

The kids have their favourites: Edie demands The Ronettes' version of 'I Saw Mommy Kissing Santa Claus' and The Beach Boys' 'Santa's Got An Airplane' on constant replay, unless Maudie can get to the CD player to load Darlene Love's 'Marshmallow World' first.
I'm kind of proud that they're both fans of Phil Spector's unique treatment of the Xmas song. For most of the 1970s and 1980s his album
'A Christmas Gift To You'
was the only holiday-themed record deemed listenable by hip music fans (and that of course included me). It's packed with his crazy wall-of-sound backing for traditional songs such as 'Parade of Wooden Soldiers' and 'Silent Night', as well as classic pop songs like 'Winter Wonderland' and 'White Christmas', making them sound as epic and contemporary today as when he recorded them in 1963.
A great Christmas song needs to be full of either emotion or mad humour. Spike Jones and his City Slickers' version of '
Rudolph The Red-Nosed Reindeer'
is the epitome of the wacky fun-filled Xmas song. Likewise Huey 'Piano' Smith's version of 'Twas The Night Before Xmas': with its rolling New Orleans piano and deep bass voice, it sounds like the musical accompaniment to a classic Tom & Jerry cartoon.
'Twas the night before Christmas…' is the first line of the most famous Christmas poem ever written (in 1823 by Clement Clark Moore), and the inspiration for the first Christmas pop song (1963) to give Santa his route down the chimney. Since then, 'Up On The House Top' has been covered by scores of singers, most recently and successfully by Kimberley Locke in 2005, though I prefer the Jackson 5 version from 1970.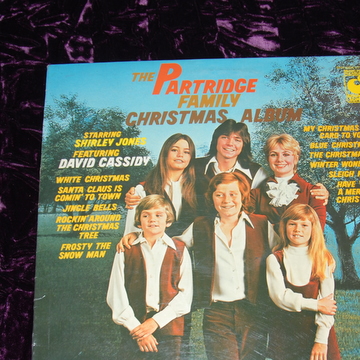 In fact, because of my age perhaps, there are a lot of Christmas song recordings from the 1970s that I love. Not the usual Slade and Wizard megahits of the day, but Mud's 'Lonely This Christmas' which is a slight reworking of the Elvis version of 'Blue Christmas', and the Partridge Family's 'My Christmas Card To You' being particular favourites. The latter was the only original number on the David Cassidy and Shirley Jones-led TV family's Christmas album of the same name, a vinyl copy of which – now 36 years old – is still played in our house during December.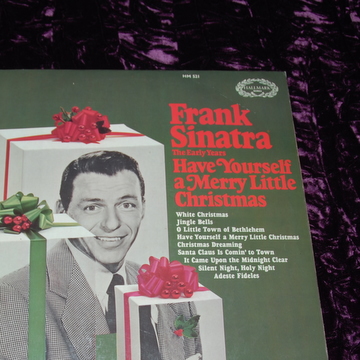 As a twentysomething, I used to bug the hell out of the left-leaning, self-styled rebels I shared a house with by loudly playing the
CBS Frank Sinatra album
, recorded in his 20s and full of carols.
'The Sinatra Christmas Album'
(the later Capitol recordings) still sounds pretty good too.
These days there are so many fantastic Christmas song compilations covering every musical genre that you can make a different compilation every year (which I do) and not repeat anything. Only Edie and Maudie demand 'I Saw Mommy Kissing Santa Claus' and 'Marshmallow World' on every single one. It's ruining my street cred, but what's a dad to do?
Here are some other songs that rock our Christmas socks. Please send us your Xmas favourites, we'd love to hear them…
Mal: Barbra Streisand's 'A Christmas Album' and my friend Pete Silverton's 2004 Christmas compilation CD, full of fantastic and unusual songs (we can send you a tracklist, just ask…).
Jane: The Chieftains' 'The Bells of Dublin' with Elvis Costello, Rickie Lee Jones and Jackson Browne is sublime. Plus I also have a very soft spot for Alma Cogan's 'Never Do a Tango with an Eskimo' ('No, No, No…').
Tamsin: I like traditional old carols and two of my favourites are 'The Boar's Head Carol' and 'Gloucestershire Wassail'. A nice set of such carols can be found on Paul Hillier's 'Carols from the Old and New Worlds'. And 'Raffi's Christmas Album' gets 10-out-of-10 for younger children.
Carla: 'Last Christmas' by George Michael.
Maudie: her second favourite is 'Winter Wonderland' also by Darlene Love.
Edie: her third favourite is… oops, she doesn't have one.