30th Jun 2007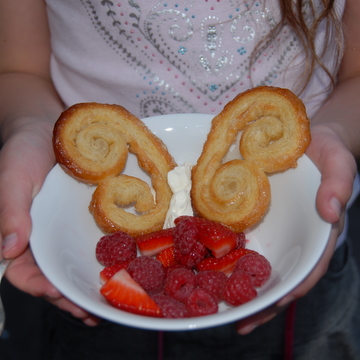 I had another family coming for supper and very little time, as usual, to make something. I've been trying to empty my freezer, as I am very good at putting things in but not so good at taking them out again, so I delved in and pulled out a packet of puffed pastry. Of course I had to leave it to defrost, so in the end we all made the butterflies together. Quick and beautiful. We ate outside so they were our first summer butterflies in the garden this year.
Pastry Butterflies
75g caster sugar
1 packet of puff pastry (mine was 300g)
1 small carton double cream, whipped
Mixed soft fruit
Heat the over to 200 degrees C/Gas Mark 6. Sprinkle a third of the sugar on to your work surface and roll out the pastry to form a rectangle about 35 x 25cm. Sprinkle the rest of the sugar on top and press in with the rolling pin. Take the shorter end of the pastry and roll it up to the centre. Roll the other side to meet at the centre, moisten with a bit of water and press together to seal the roll. Cut into 1cm slices and place well apart on a baking tray lined with greased parchment, to prevent sticking. Bake for 10 to 12 mins. They should be brown and the sugar lightly caramelized.
Cool before serving with soft fruit and a dollop of cream to secure the butterflies together.
Tamsin

---