3rd Dec 2009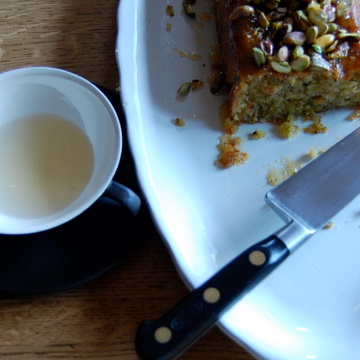 Jane: Is this the most delicious cake ever? The grown-ups all think so and, surprisingly given the general nuttiness and lack of gooey icing, the children are pretty keen too. This is a good rich winter treat, which can even be substituted for pud with a dollop of cream on top. When I'm feeling lazy I forget about the vanilla pod and the cake is just as tasty…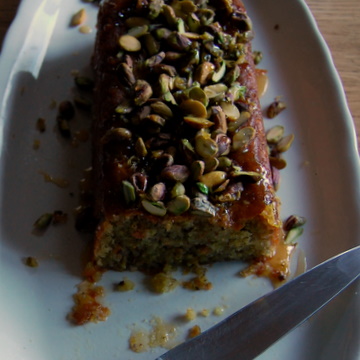 ---
27th Nov 2009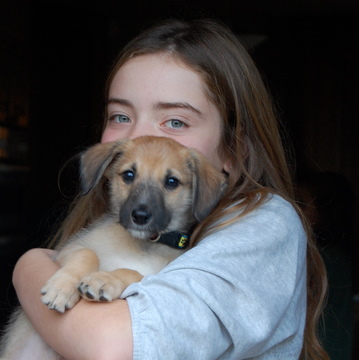 Jane: Just had one of the best birthdays ever, thanks to the arrival of George the puppy! I've wanted a dog for years, in fact Mal and I used to joke about our future wannabe hound 'Lyle the lurcher' (named in honour of singer Lyle Lovett). But it was never the right time. Until now. And George, hurrah!, is a lurcher (basically a sight hound crossed with something else): he's part Saluki-greyhound-lurcher-Collie, so Gawd knows what he'll turn out like.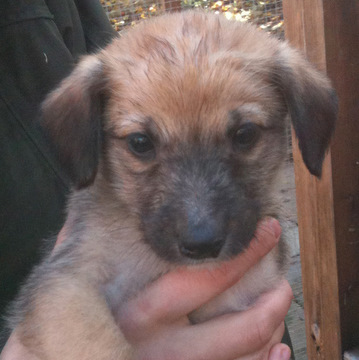 Weirdly, as you can see, he looks more like an Alsatian in terms of colouring and muzzle, so we may have been sold a pup…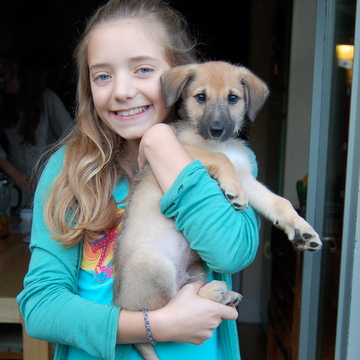 I'm sitting in my office writing this while he is fast asleep in his basket by my feet – sweet! The children think he's fab (happily even taking part in the prolific pooper-scooping) and Maudie and I will be going to training classes in the New Year.
Yep, we're all in love, L-U-V. Long live King George!
---
18th Oct 2009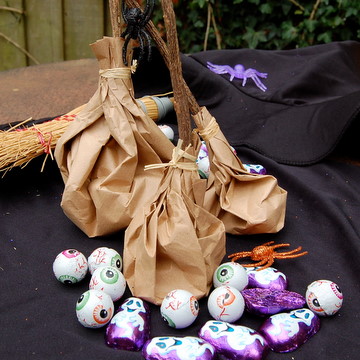 Jane: Here's a funky way to dispense treats to trick 'n' treaters this Halloween – fill up a miniature witches' broomstick with sweets. The brooms take just a minute to make: all you need is some brown paper, liquorice roots for the handles – they look wobbly and knobbly and very authentic (you can buy them in health food shops) – or just use twigs instead, some chocs or sweets, and a bit of raffia or thread to tie the broomstick together.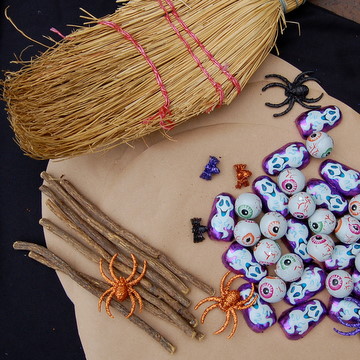 Cut out some large circles on the brown paper, at least 26 cm in diameter. Pop a few sweets in the middle of the circle.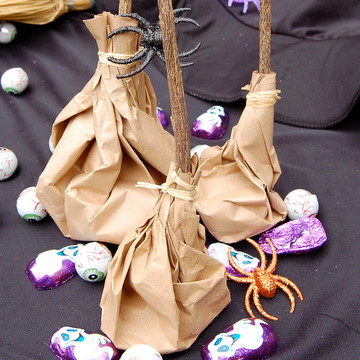 Then grab the edges of the paper and gather them together at the top. Shake the sweets down and push on a table to give the broomstick a flat bottom, so it will stand upright. Stick one end of a liquorice root in the centre of the gathered paper, about 2-3 cm deep, then secure around the paper and root with a bit of raffia or thread.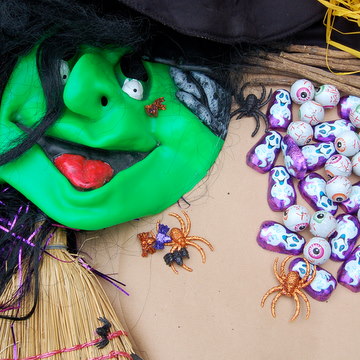 Bewitching!
---
17th Sep 2009
| | |
| --- | --- |
| Elderberry Jelly with a Chilli Kick | |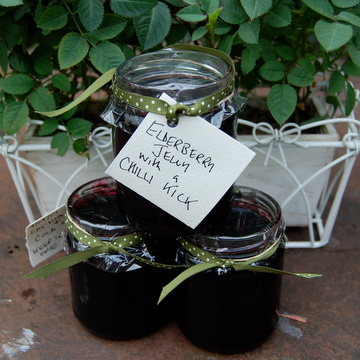 Jane: There's a sprawling elder bush just over the river from us which has been dripping glistening black elderberries for the last couple of weeks, desperate to be made into elderberry jelly. So finally we obliged. But instead of spread-on-bread-jam I wanted to make something with a kick, that you could eat with cold meats and cheese. Aha! Just add chilli! Surprisingly, the kids loved this jelly, and what's more it offers fantastic protection against winter colds and flu – take a daily dose as soon as you feel a sniffle coming on.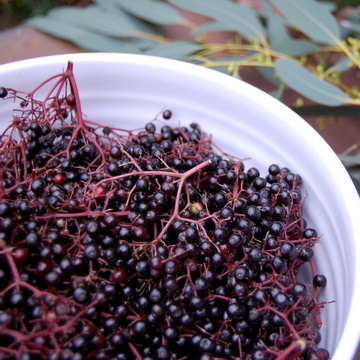 ---
18th Jul 2009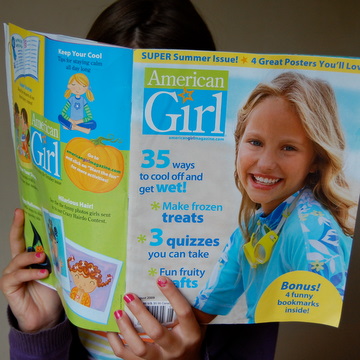 Jane: Mike has just delivered American Girl to us, a fab US mag quite unlike anything we have in this country (in so much as there are no boys/first kisses/fashion/my-best-friend-is-not-talking-to-me teenage traumas). Does that make it sound dull? It's not. It's full of energy, ideas, quizzes, crafts and funny, engaging features and stories. And cooking – this month frozen lollies of the most wacky and wonderful kind. The Peanut Brrrr was a step too American for us but we loved the idea of Flurry Float (frozen grape juice around vanilla ice cream to make a mivvi), Polar Pops – basically frozen Swiss roll on a stick, and Chilly Vanilly – fresh berries in frozen vanilla pudding.
---
30th Jun 2009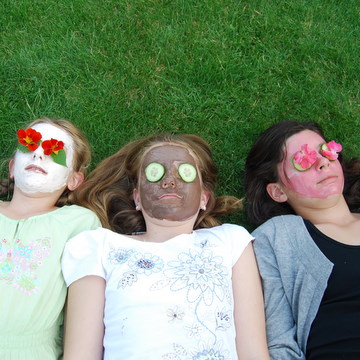 Jane: There's something incredibly glamorous about face packs. I can hardly believe I've just written that sentence (apologies to women everywhere) but it's true: in glossy magazines, you'll always find a gorgeous gal with a gloopy green mud face pack and cucumber slices over her eyes, looking trendy but tranquil, really chilling out. I remember as a teenager thinking that this (the mud pack) was the height of sophistication, so I wasn't surprised when the girls started badgering me to try some out some for themselves.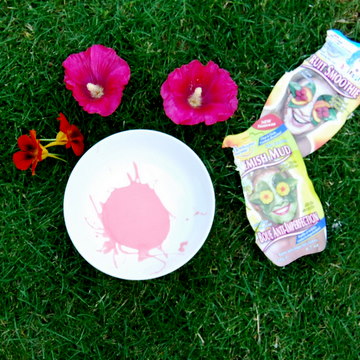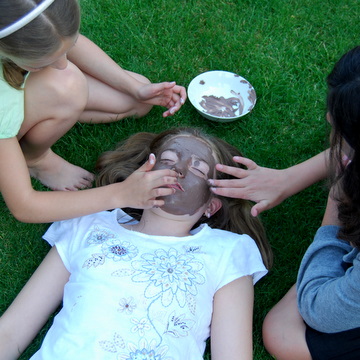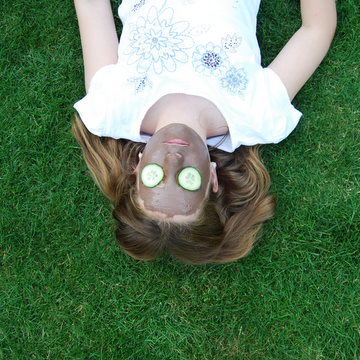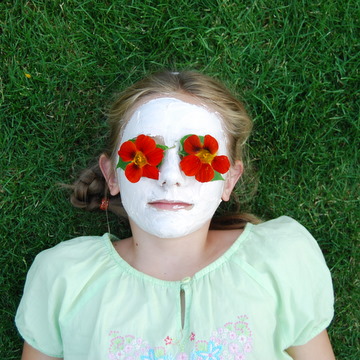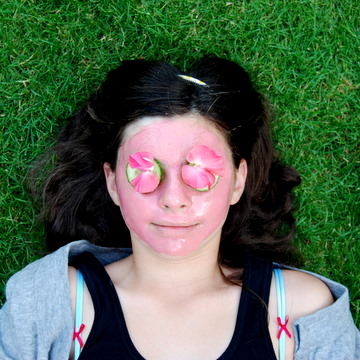 ---
22nd Jun 2009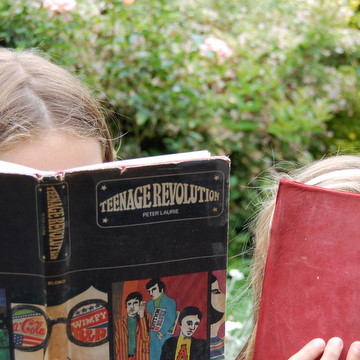 Jane: We've been buying a lot of old books recently, attracted by their funky covers and wacky titles, and by offbeat editions of old classics (new ones can look very dull by comparison). The books are beautiful but sometimes smell a bit musty and I was worried it would put the children off reading them. So I did a bit of research into de-pongifying them and found that bicarbonate of soda does the trick.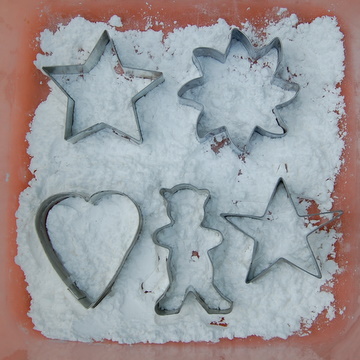 It's easy-peasy. All you need an airtight container large enough for your book to have at least five centimetres space all around it, a raised tray (or see below) and some bicarb. Liberally sprinkle the bicarb into the bottom of the container (I used one of my plastic cake boxes) to a depth of one centimetre. Then you need a cooling rack or something raised and perforated to place the book on, so it doesn't touch the bicarb and air can circulate around. Don't buy something special – I used cookie cutters, and they worked fine.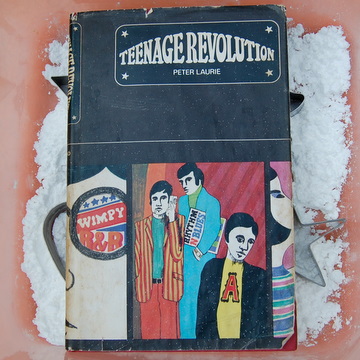 Rest the book on the rack or cutters, close the lid tightly, making sure it is airtight, and leave. The bicarb will absorb most of the nasty smells within a few days, but particularly pongy books might need longer. (You can reuse the bicarb – just put another stinky book in the box.)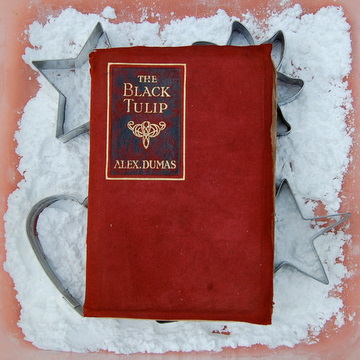 Funny though – when I handed the children the cleaned-up books and explained what I'd done, they said, 'But mum, we really liked that musty old smell…'
---
20th May 2009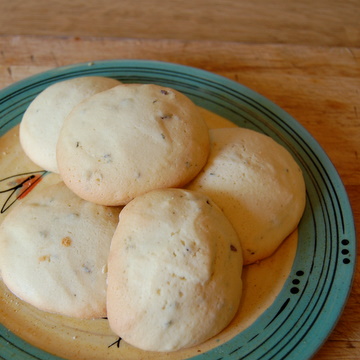 Jane: Edie brought home some Tudor biscuits she'd made at school which were unusually delicious – halfway between biscuit and cake, with a firm yet spongy bite and a slightly perfumed rosewater tang. They're incredibly easy to make (obviously why they do them at school) because they don't need rolling and cutting – you just drop spoonfuls of mixture on to a baking tray. To make them a little summery (as it is Chelsea Flower Show week) I added some French lavender leaves and flowers, which everyone said tasted like cinnamon when the biscuits were cooked. Very strange...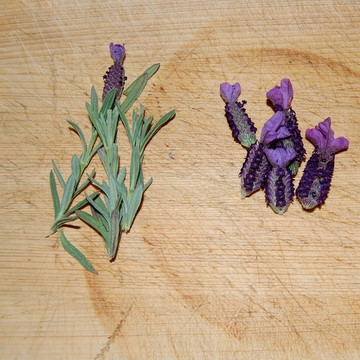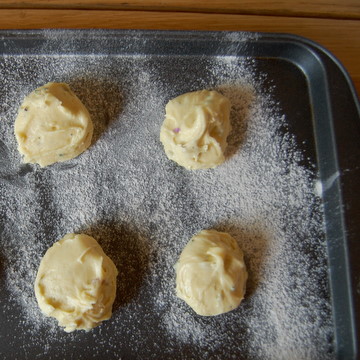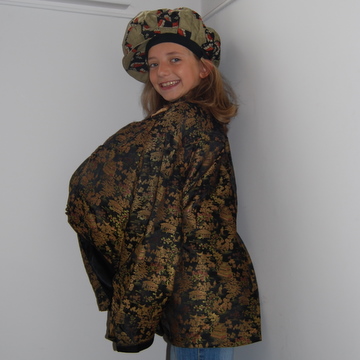 King Henry VIII loves those lavender biscuits...
---
8th May 2009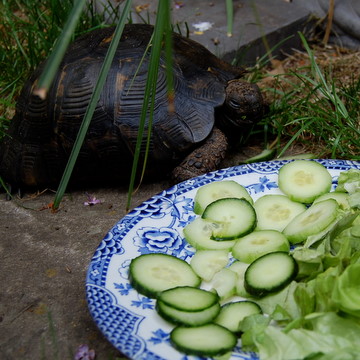 Jane: This is Joey, the tortoise. We've been feeding him for a few days. He is 70 years old, and the lady who owns him has been looking after him for 37 years. Amazing. I say he, but actually Joey is a she, only it took several decades and a trip to the vet before anyone found out.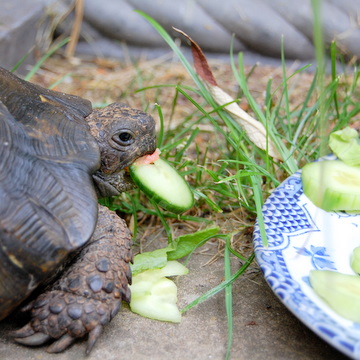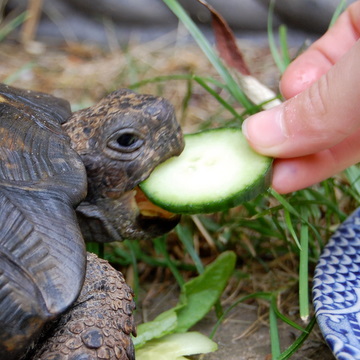 When she heard the children's voices, she'd perk up, sticking her little head out of her shell, and she let them hand feed her bits of cucumber, showing her tiny red tongue. When her owner came back the weather had turned colder, so Joey was brought in and put beside the grandfather clock with an apricot coloured napkin over her. She seemed to like it there. When she heard my voice in the corridor, she poked her head out again as if to say thank you for looking after me. Or perhaps: not her again. Whichever it was, I was smitten.
---
16th Apr 2009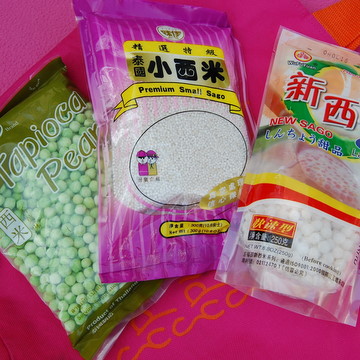 Jane: It all started with sago. A few weeks ago in a foreign hotel, I tasted my first sago pudding in two and a half decades. It was exquisite: a tiny bowlful of opalescent sago pearls and fresh mango slivers drifting in fragrant coconut milk. All those memories of stodgy, evap-milked, school frogspawn vanished instantly. This was a sago pudding I (and I hoped the kids) could learn to love. If only I could find out how to make it.
Back home, I went on a search for sago. No luck in any of the big supermarkets or health food stores. Even in the foreign food shops I could only find weird hybrids. The version which looked most like sago and advertised itself as 'premium small sago' was actually made from potato starch (whereas sago comes from sago palm stems). 'New Sago', a Chinese, fast-cook variety, was made from tapioca (a starch derived from cassava roots, not sago palms). I bought them both anyway. Plus the large, green 'Premium Quality Tapioca Pearls', dyed with pandan leaf extract so they looked just like bullet-hard dried peas.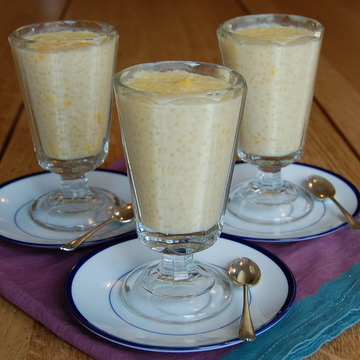 I found a chilled mango sago pudding recipe on the internet and started simmering the tiny potato starch pearls, adding coconut milk and mango, all the time hoping for manna. The recipe said it would make enough for four people but I managed to get eight bowlfuls, and cooled them as directed so they stood stiff with a thick, yellowish milk skin on top, the little potato pearls shining through, before proudly presenting them to the family as pud. 'Sordid,' 'Solid starch', 'Godawful' were a few of the kinder comments. Even I found it difficult to swallow more than two mouthfuls of this cold, starchy wodge. Into the bin it went.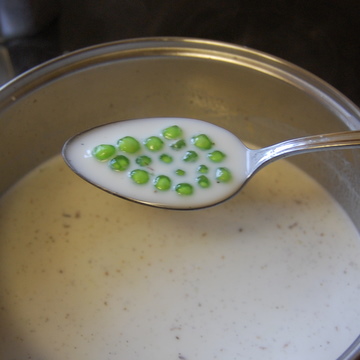 They didn't. The monstrous green packet languished there until the evening, when the anti-tapioca rebellion had muted a little and I could bring it back in. But the window was too small for me to climb through, so Edie had to jump on to the roof to retrieve it (so kind, given her aversion to milky puddings), while I mused on what further ridiculousness my sago trip would take us.
A few nights' later, I felt strong enough to make the green tapioca. On the translated-from-Thai packet, it said: 'Put Tapioca Pearl [sic] in boiling water and stirs [sic] lightly until look [sic] clear.' I boiled it for about 20 minutes. Still rock solid. Thirty minutes: the edges were jellylike and chewy but the insides tough as old Doc Martens. Forty minutes: enough! We'd eaten our main course ages ago, and here was I still boiling the tapioca. Fine, it was a bit stodgy and solid in the middle, but I reckoned it would continue cooking while I made the custard.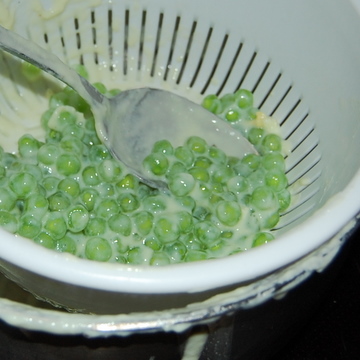 So I drained the water off the green gunge (green slime was drooling from the pearls, worth knowing if ever you want to make your own edible snot for Halloween). I added milk and sugar, brought the mixture to a boil, and stirred in the eggs. It thickened a bit until it looked like cream of spring veg soup, though the green tapioca itself was still tough and gloopy (how long does this stuff take to cook?). I dished it up anyway, straining it into the children's bowls so they got pure, sloppy custard, while the grown-ups tried (and failed) to munch their way through the still chewy green pellets. Awful. Inedible. Grim.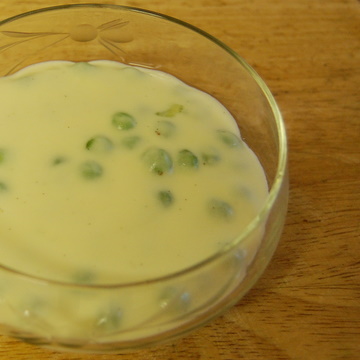 I'm not sure about the moral of this story, apart from avoid tapioca, sago, and other foreign starches at all times if you want a happy family. But I know what I tasted in that foreign hotel those few weeks ago, and it was gorgeous. For that reason alone, the sago grail is still on my mind…
---
29th Mar 2009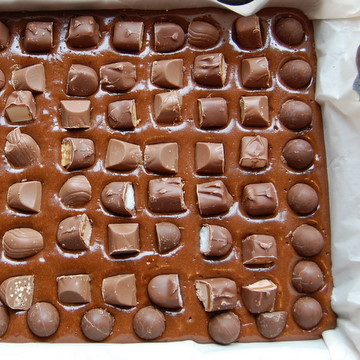 Jane: To make special customised Easter brownies, add some little eggs or chocolates (we used solid chocolate mini eggs and 'Celebrations' chocs) to the recipe. It's easy: make your normal brownie batch, then pour about a third of the mixture into the baking tin, place your eggs or chocolates in rows on top so each brownie will get a whole chocolate in the final cut portion, then pour over the rest of the mixture to cover completely. Cook as normal. Delicious...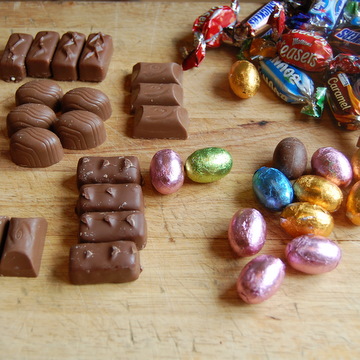 ---
16th Mar 2009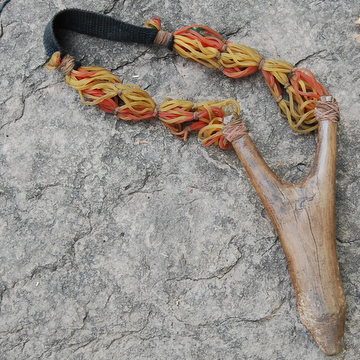 Jane: A couple of weeks ago, I was camping with some other journalists in the Cambodian jungle looking at ancient, beautiful but half-collapsing temples. One of the children who followed us around the temple sites (telling us stories of the history and natural world to make an extra dollar or two) showed me this highly effective catapult he'd built. It's basically a strong bit of branching hardwood which has been whittled to a Y-shape. He cut a bit of camera strap to make the catapult cradle, then attached that to two chain of rubber bands to give it good stretch. Definitely worth trying at home.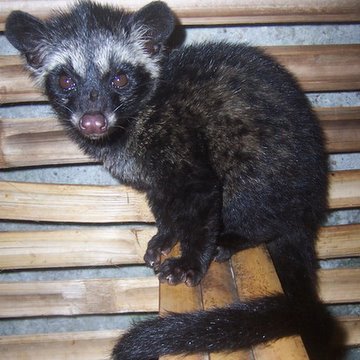 ---
9th Mar 2009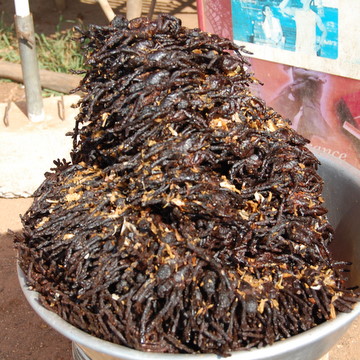 Jane: I'm always keen to try weird and wacky foods, thanks mostly to my dad, who encouraged us to get to grips with snails, liver and frog's legs by the age of about eight. But on a recent trip to Cambodia, the concept of wacky gastronomy hit a new high (or low, depending on the strength of your stomach). To wit, tarantulas. You can see them in the picture above, piled up in a country market stall near the jungle, several hours' drive from the capital city of Phnom Penh. Would you eat these? Thought not. But two of us with more hair than sense decided we must, just must, have a taste to show we've walked on the wild and jungly side and lived to tell the tale. 
Well, let me tell you, spiders taste foul. We took one off the top of the big pile. It was black and shiny, fried in oil. (One man told us they pull out the poison sac and fangs before you eat them which was some comfort, and apparently tarantulas are not really poisonous anyway, they just look it.) We both chewed a leg (not the same one). It was tough and fibrous. With an oily aftertaste. I spat it out and gave up.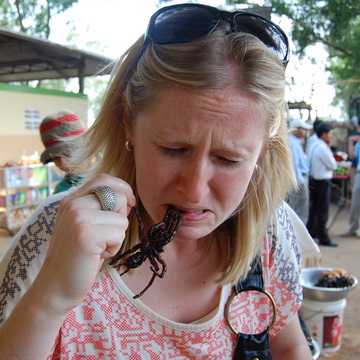 Lizzie munched manfully on.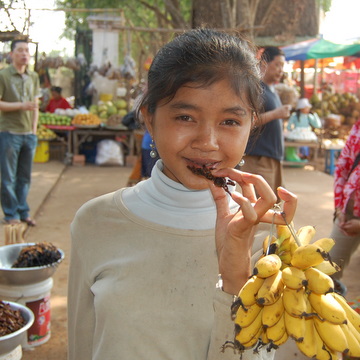 We asked the children if spiders really were a delicacy and they nodded enthusiastically. But when we asked if they wanted one they all said no, except for one brave girl who didn't really look as if she was enjoying it either, especially when she got to the soft yellow bits in the middle. (A few days later we were told the spiders have to be fresh – ie just fried, and eaten with rice. These ones were probably days old. No wonder they tasted a bit off.)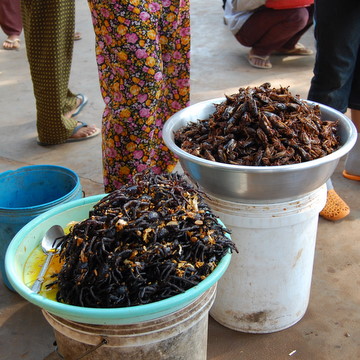 In Cambodia, our guide explained, they eat everything except the table and he wasn't joking. In the next basket were grasshoppers, and we saw big red ants – the stir-fried eggs are considered a special treat.
This 'if it moves, eat it' philosophy is partly a legacy from the days of the Khmer Rouge, when people were starving and would eat anything from tree bark to flying insects to stay alive. Nowadays, people aged 40 and over who lived through the 1975-79 Pol Pot atrocities often have terrible stomach and digestive problems, and one of the things they take for it is spider whisky in which tarantulas (and sometimes ants, for the formic acid) are steeped to make a strong medicinal tincture. Apparently spider whisky is good for bad backs too.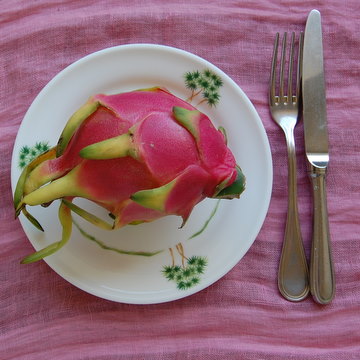 In the end I gave up on insects and turned to the delicious fruit instead. This beauteous pink thing is a dragon fruit.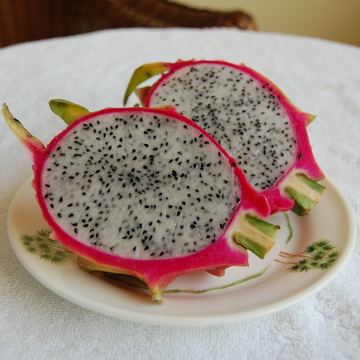 Its insides are white with tiny black seeds, like a well-washed lino floor. Delicious.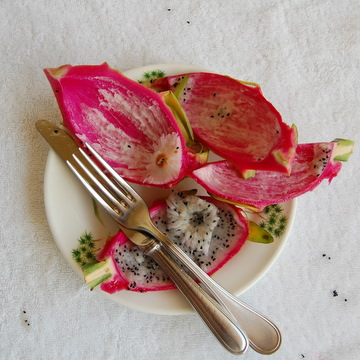 I enjoyed that.
---
9th Feb 2009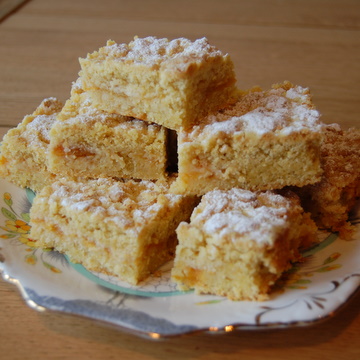 Jane: This is the time of year for lovely comfort puds like crumbles and roly polys and here's a fantastically stodgy teatime equivalent beloved of all members of our family. It's a heavyweight buttery shortbread with a sweet and fruity layer that makes you think spring might be on the distant horizon. It's also good to make as a traybake for school dos as both children and adults like it a lot, and you can make 24 or so slices in one batch. 
---
30th Jan 2009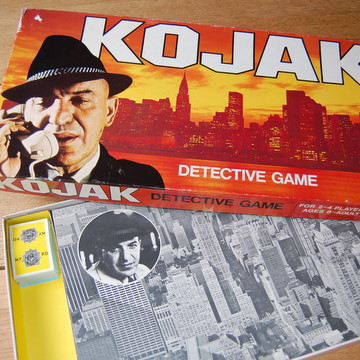 Jane: One of my favourite games this year was the Kojak Detective Game – yes, you've guessed it, an Xmas eBay purchase. I must have missed it first time round but the box and board now have a cutesy kitsch appeal – incorruptible cop Telly Savalas with his gleaming bald head, lollypop and mordant wit. Actually, forget the wit – this game is simple, all you have to do is catch the baddie with your two squad cars, though the route to do so is tortuous, with a series of complicated technical manoeuvres that are (you'll be glad to hear) currently beyond my descriptive powers.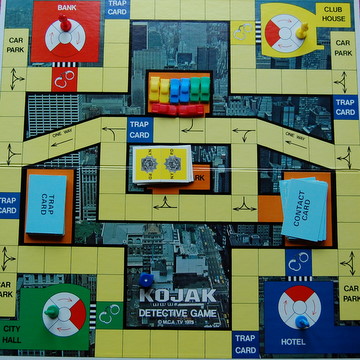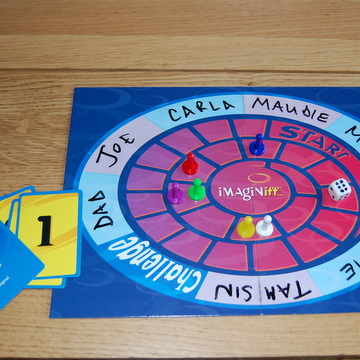 ---
17th Dec 2008
Jane: Easy, delicious white chocolate truffles made by my friend Sue – pack them into Christmas bags or decorated boxes and they make a fantastic home-made present for teachers, relatives, as a house party gift etc.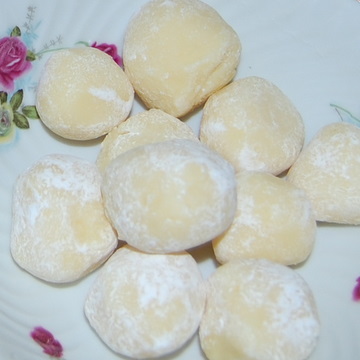 ---
15th Dec 2008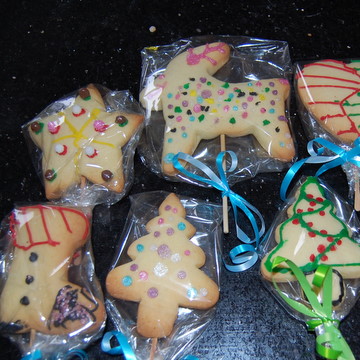 Jane: This is the week when we all run around trying to find fresh inspiration for Christmas gifts to give the teachers before term breaks up on Friday. Last weekend I read a newspaper article talking to teachers about the thorny subject of getting 30 naff Christmas gifts from their class - they cheerfully said they appreciate home-made stuff a lot more than mugs or plaques saying toe-curling things like 'world's best teacher'. Which is great, because home-made it's going to be.
This year, as well as the bath bombs, we're mostly going to be giving Christmas biscuit lollypops. They look fantastic, taste delicious, are easy to make in bulk, and the children can unleash their creative side while decorating them, which makes them very personal.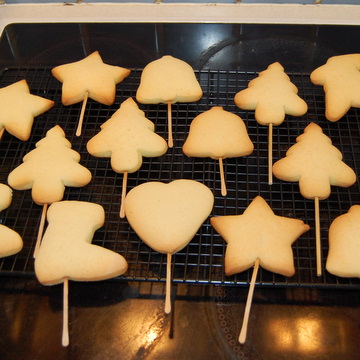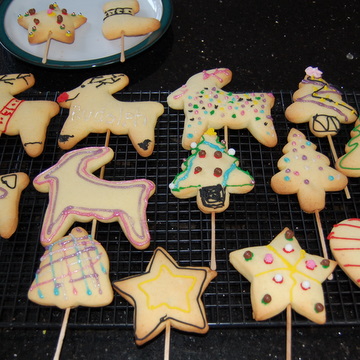 When they're cool, the children can get to work with the decorating – we used bought, brightly coloured icing pens because they're easy, but you can make your own icing if you prefer. Then leave the biscuits to dry. They look great wrapped in cellophane with a ribbon and a little handwritten tag, proving it's not just the thought but also the effort that counts.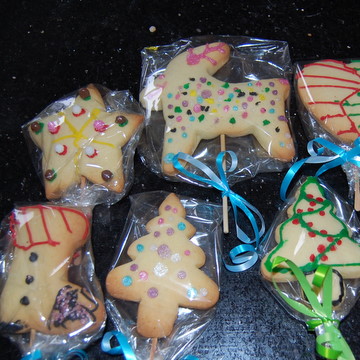 ---
6th Dec 2008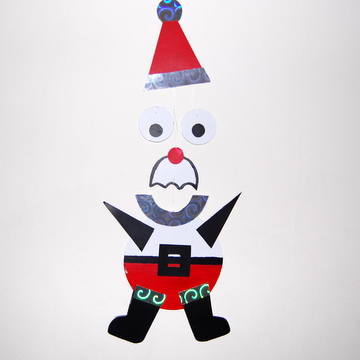 Jane: I was digging around my parents' Christmas decoration box recently and came across an old, homemade Hanging Santa. He was always a real family favourite, strung up from a hook in the middle of the hall corridor so he kicked everyone in the eye every time they passed (funny how no one thought of putting him anywhere more convenient). Twenty years on, he was looking a little ragged around the edges, so I decided to make him afresh for Xmas 2008. And here he is, looking very sparkly and chipper, raring to go for some chimney action come the 25th.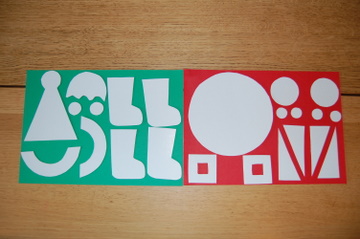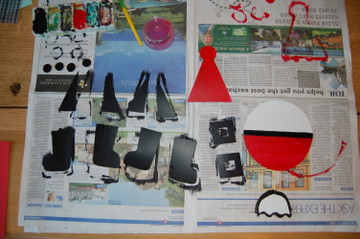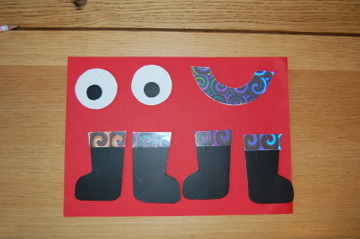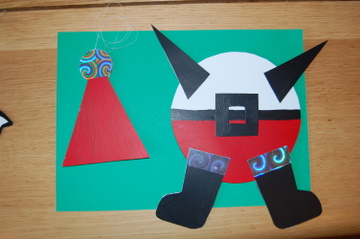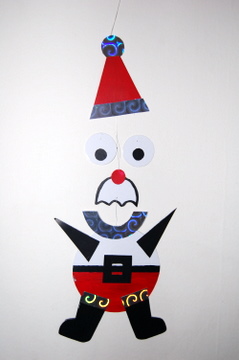 ---
28th Nov 2008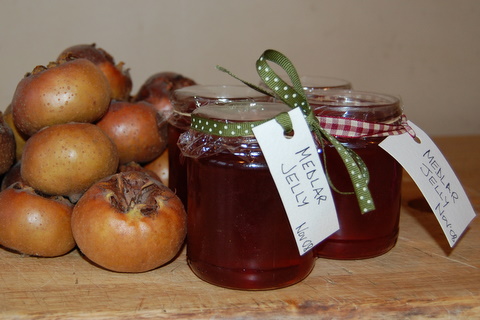 Jane: My neighbour has a rarity in his front garden – an exquisitely shaped medlar tree which produces prolific late-ripening winter fruit. You just shake its leaf-bare branches and a profusion of hard, yellowy-brown, inedible fruits hits you on the head. Inedible at least until they are made into jelly, cheese or 'bletted' – stored until they go brown and soft, internally fermenting (they look as if they are rotting) until the flesh turns to a fragrant, slightly cloying-tasting pulp. Given this, you can understand why medlars are not popular today, but they were considered a delicacy in Victorian times, the bletted fruit scooped out and eaten raw with cream and sugar as a winter pudding.
---
24th Nov 2008
Jane: I've just finished a couple of months' whopping workload and lifted my head to see…snow! A few flakes anyway, fluttering down yesterday, and more on the way according to the weather people. So we decided to spend the freezing weekend inside, lighting a big log fire, doing Stir-up Sunday pud-making and thinking of new present ideas to make for Christmas. One of them was Bath Bombs, inspired by the belief that at Christmastime you can't go wrong with a bit of pampering and a lot of fizz.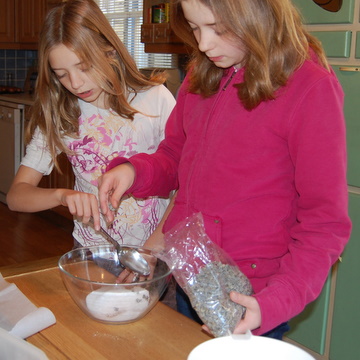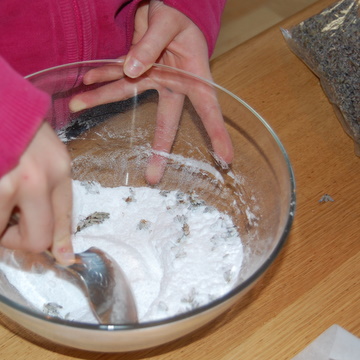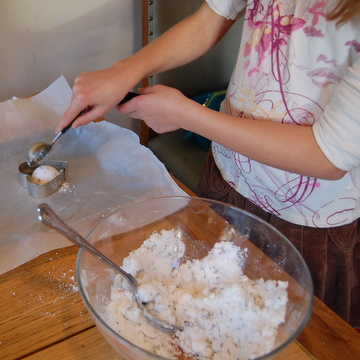 Then spoon the bomb mixture into seasonal cookie cutter shapes, placed on a baking tray covered with greaseproof paper. Press the mixture down hard, then leave overnight to dry.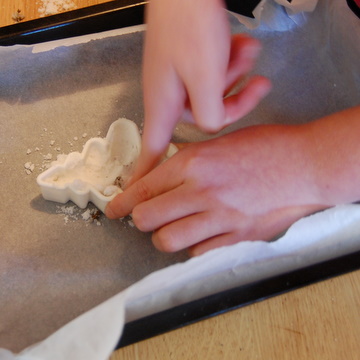 Next day, push the bombs carefully out of the moulds. Lay them on a small piece of cardboard covered with silver foil or wrapping paper, then fold over a cellophane sheet and tie with ribbon and a label.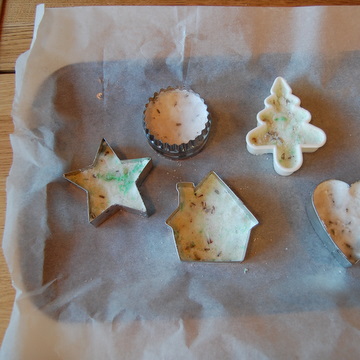 ---
30th Oct 2008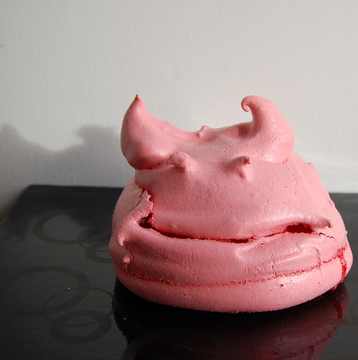 ---
22nd Oct 2008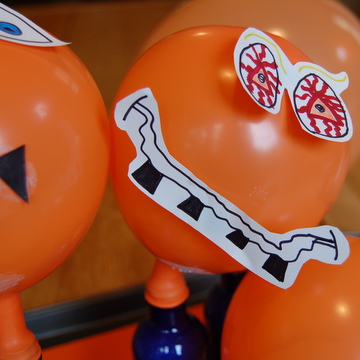 Jane: As a gruesome welcome to trick or treaters this year, we wanted to try out something new and a bit different – some gorgeously gassy grotesques. The idea of three expanding Halloween balloon monsters lined up in a row, wobbling and burping horribly before our eyes, seemed very enticing. So Edie drew some monstrous mouths, eyes and noses – enough for three faces (see below) – and cut them out. We found three small bottles, some orange balloons, and got out the bicarbonate of soda and vinegar ready for the old explosion trick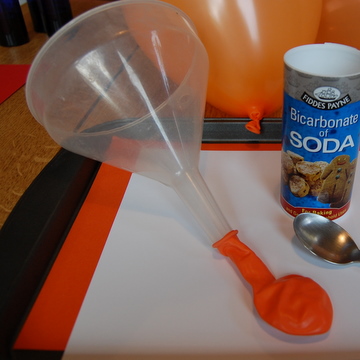 First we filled the balloons with a very big teaspoonful of bicarb using a funnel (flow it in gently, otherwise it can get stuck in the neck). Then we filled the three bottles one-third full with vinegar.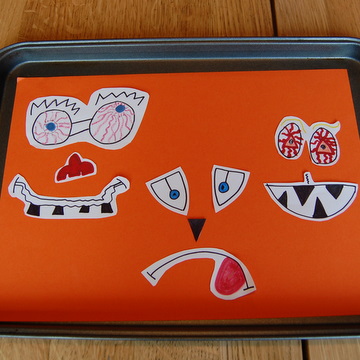 We attached the neck of the balloons over the bottles, making sure to pull the plastic down as far as we could and being careful to flop the balloon over to one side so no bicarb falls in to the bottle.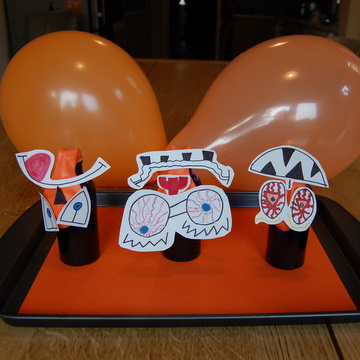 Then we stuck the eyes, mouths and noses upside down on the balloons, with a small separate piece of blu-tack on each bit.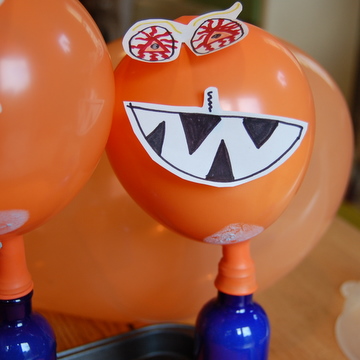 Then came the exciting bit – we turned up the balloons so the bicarb fell into the vinegar, and the balloons began to expand with the carbon dioxide produced. The faces stretched and grimaced, and started flopping madly on their wobbly necks. The bottles were made of plastic – not quite heavy enough to support the weight of the balloons – so they all fell over and crashed. It was messy, very messy! But also very good (and a little bit scientific) fun.
---
30th Sep 2008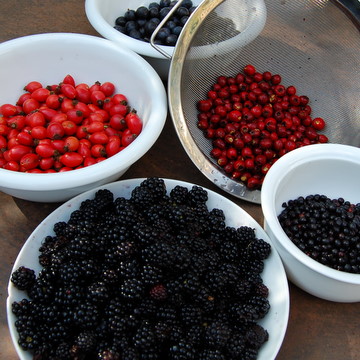 Jane: Last weekend the children were camping, so Mal and I went hedgerow picking with a step ladder. Ooh, it made life much easier. We could reach all the sloes and lovely juicy blackberries that everyone else had left behind. I've just bought a fantastic book, Hedgerow Medicine, which shows you how to make teas, tinctures and balms from the plants that are all around us. But I started off with hedgerow jelly: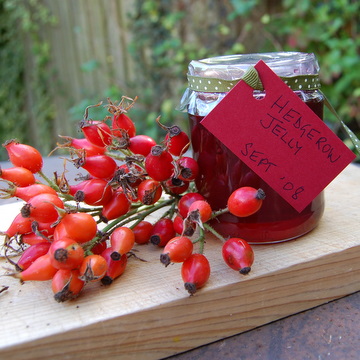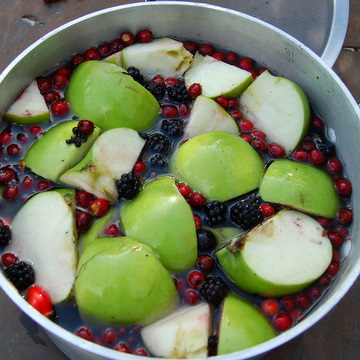 ---
19th Sep 2008
| | |
| --- | --- |
| Blackberry and Apple Slices | |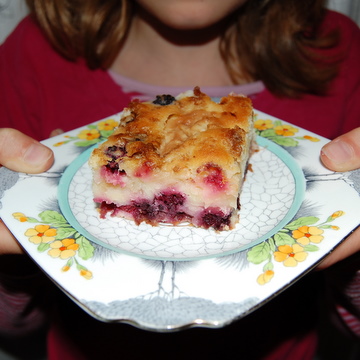 This is delicious hot, but even better cold a day or two later.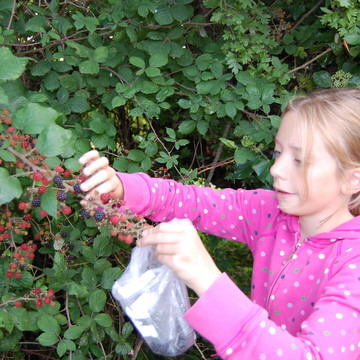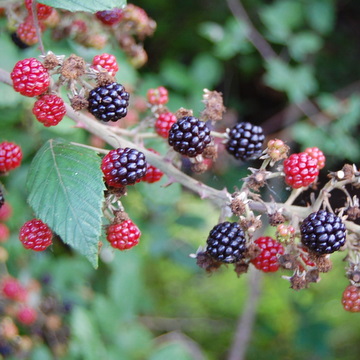 ---
11th Sep 2008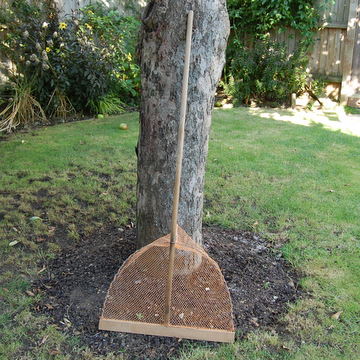 Jane: Any one for shrimping? Okay, we might at the fag end of the season but it's still worth a go. This summer, my neighbour Gill rediscovered her lovely wooden shrimping net from childhood: it's 40 years old and as you can see, in pretty good nick. As a child, she used to go shrimping on Happisburgh beach in north Norfolk with this very same net, and this year took her children to Waxham Sands near Great Yarmouth to see what they could catch.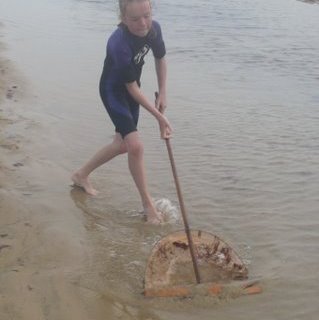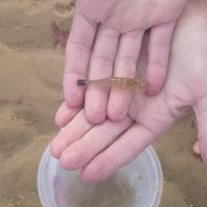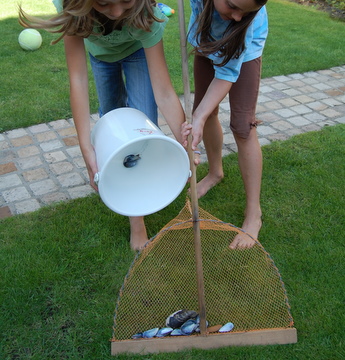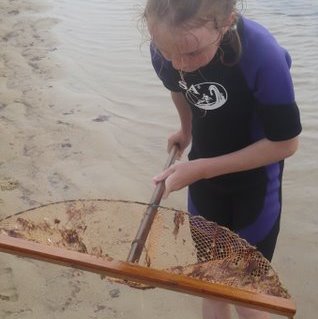 ---
20th Aug 2008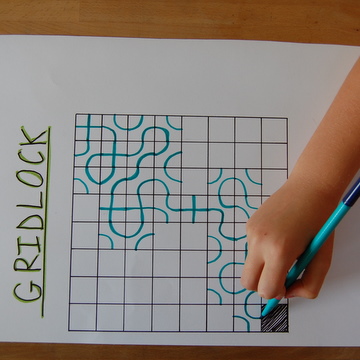 Jane: After being rained off the beach for the nth time this drippingly awful week, we decided to play Gridlock, a paper and pencil game for two I found in an old 1960s' activities book. It's actually quite tricky to play - the idea is to 'draw' your way from 'home' (the cross in the top left hand corner of the grid) to your destination square (the bottom right hand corner of the grid) without being forced out of the grid by your opponent.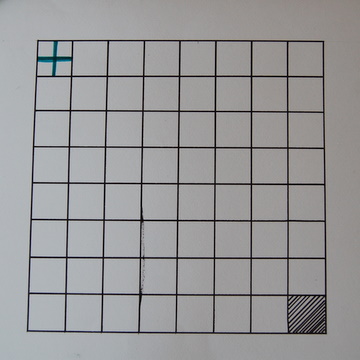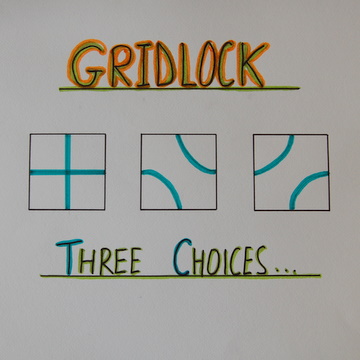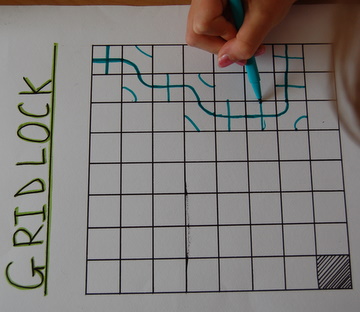 ---
6th Aug 2008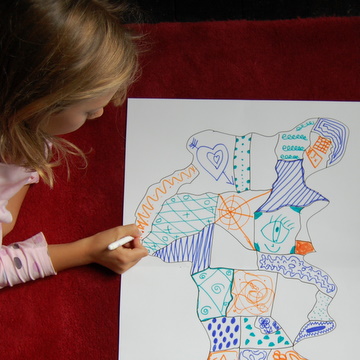 Jane: It's been raining on and off for days here, and after two trips to the cinema to see Mamma Mia! and Kung Fu Panda (both very cheering), we wanted to play some indoor games instead. As it's the summers hols and we didn't want to stretch our brains too much, we decided to play a game which involves a bit of thinking and a lot of colouring in, called Continental Drift. It's good for all ages – little ones really enjoy the colouring in – and for two or more players.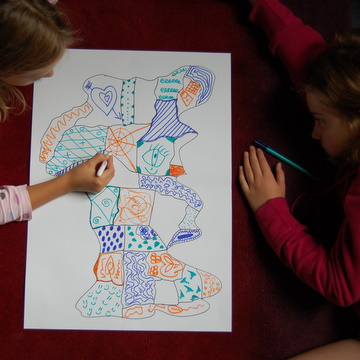 ---
17th Jul 2008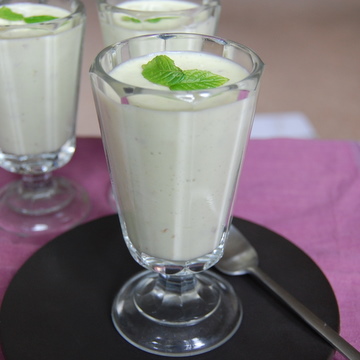 Jane: Our exceedingly kind neighbour Julia brought round a big bag of home-grown gooseberries this week, freshly picked from her allotment. I love goosegogs though they are funny-looking things, all veiny and hairy and hard as bullets, full of juice and tart flavour once you cook them. Some were very large and it suddenly brought back memories of reading years ago about some wacky 'gooseberry clubs' around Manchester and Yorkshire where growers had annual competitions to cultivate the largest gooseberry ever. They stripped their bushes of all fruit but one, which then grew to a whopping two ounces or more. Just eight of those and you can make a pretty decent gooseberry tart. But instead, we decided to make our favourite green pud - gooseberry fool.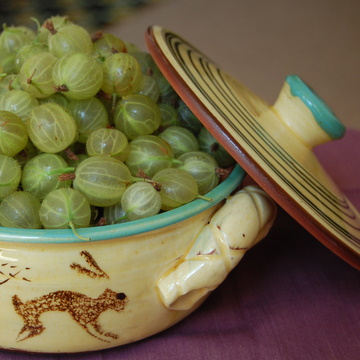 ---
12th Jul 2008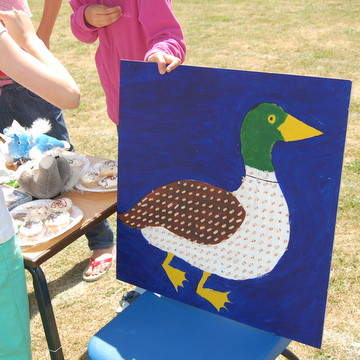 Jane: Last weekend it was the school summer fair and the girls ran a Pluck the Duck stall – a kind of tombola where you win prizes by picking raffle tickets from a duck. It's easy to make – all you need is a bit of hardboard and some paint (oh and a drill, so see the instructions here). Once you've made the duck, you push rolled-up raffle tickets into the holes which people pull out – those ending in 0 or 5 win a prize.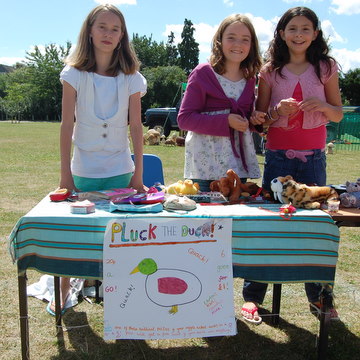 Carla, Maudie, Alice and Keri rifled through their stuffed toy collections and party cupboards, and baked loads of fairy cakes to give as prizes. They had a fantastic array which they spread out over two tables and the punters flooded in to have a go. Children of all ages love it because they have a pretty good chance of winning something soft and fluffy or deliciously tasty…
---
31st May 2008
Jane: It's the last day of half-term, and I've just been reading an article about how British children have the lowest level of wellbeing in 21 developed countries, according to UNICEF. Our children are apparently now almost captives in the home – the distance they can roam without an adult has dropped by 90 per cent in 20 years – and spend hours on their computer or watching TV in lieu of real adventure and challenge. It's true: when I was nine, I remember taking two buses to school across the city by myself, whereas I still walk my nine-year-old (who could easily handle it herself) the short journey to her classroom door every day. As parents get busier, the level of communication between adult and child becomes functional – 'It's time for tea', 'Is your bag packed for school?', 'Do this, do that' – apparently making interaction a one-way ticket which increases children's stress levels and makes them feel constantly bossed around. The answer, says the author, is to put children under less pressure to achieve and give them more room to explore, play and create…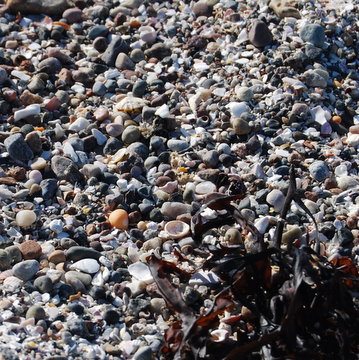 Create is a word I like and to improve our worst-in-the-developed-world wellbeing, we decided to create some natural sculptures with wood, sand and shells. We beachcombed loads of smooth pieces of driftwood, some large, some small, plus shells of all colours and shapes. You can make any mosaic you fancy – fish, snails, trees, dolphins, cows, whirls, patterns – all you need is some clear wood glue and a paintbrush.

Take the driftwood, banging a hole at each side with a hammer and big nail if you want to hang your sculpture later. Outline your chosen shape with a pencil, then paint inside the edges and fill in the middle with a layer of glue. Press an even thickness of sand on to the glue – if you're clever you can stick darker sand around the outline to give a solid edge to the shape. Shake off the excess sand and leave to dry for a while.
Then decorate your shape with shells or flotsam. Paint on another thin layer of glue where you want to give eyes or fins, or outline a backbone with a pattern of tiny coloured shells. Allow to dry. Then hang on your wall to remind you that it's good to explore, play and create.
---
11th May 2008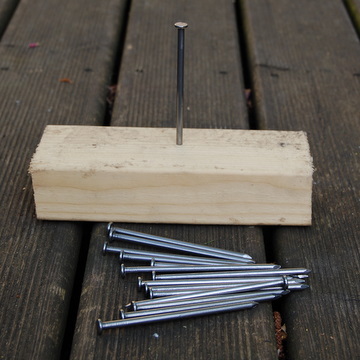 Jane: Just been with Edie's class on a school trip to Grafham Water, a nature centre where the children had a fantastic day mountain biking, orienteering, climbing on low ropes and following a trail blindfold through the woods. In one of the quiet moments (there weren't many) our lovely, friendly instructor John set us a challenge: could we use our skill and initiative to place 14 nails on top of a single nail banged into a block of wood? He gave us the equipment, and we divided into groups to solve the puzzle. 
It was baffling. We tried turning the block upside down then propping the nails beneath – the block fell over and anyway that hardly counted as being 'on top' of the nail. We tried to build a nail tower on the head, but that was as unproductive as guessing how many angels can dance on the point of a needle – they all just rolled off. Eventually, our group used our skill and initiative to… ask another instructor for the answer. He sweetly showed us how: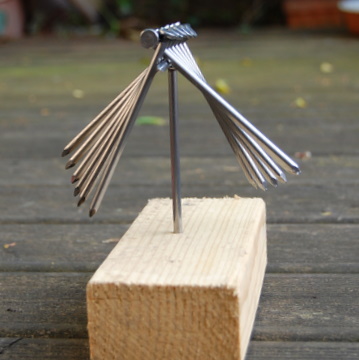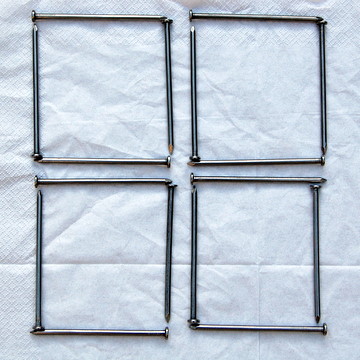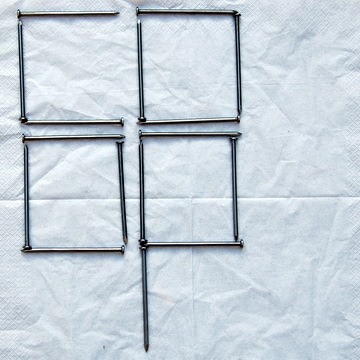 ---
5th May 2008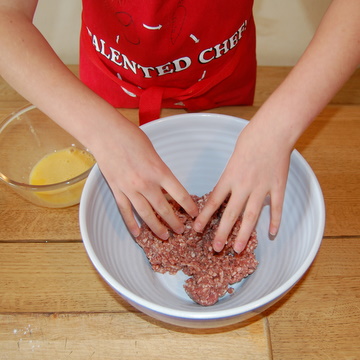 Jane: At school last week, Maudie learnt how to make burgers and was keen to cook them for us in a special Saturday night dinner before our weekly date watching the Nancies twirl and sing in 'I'd Do Anything' (we're all hoping that Jodie or Niamh will win). Maudie took our orders: we had a choice of burgers with bacon and cheese, lettuce and tomatoes, and she thought we'd also have corn on the cob on the side. She kept saying how easy it was – all you need is some mince (we used lamb mince), an egg and a squirt of tomato sauce.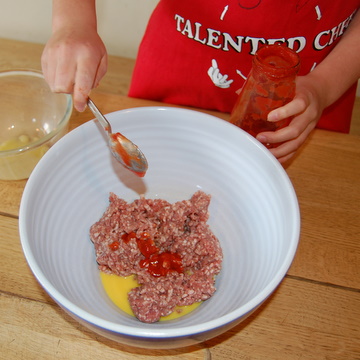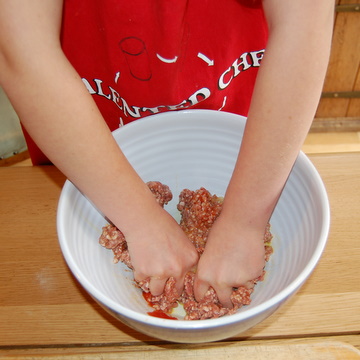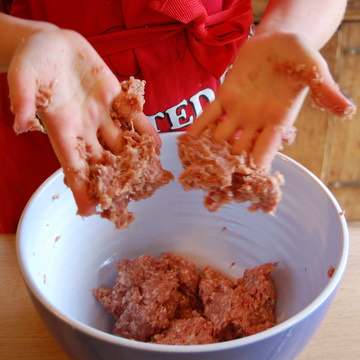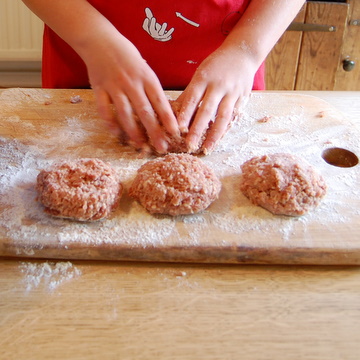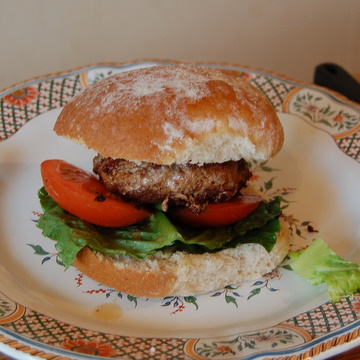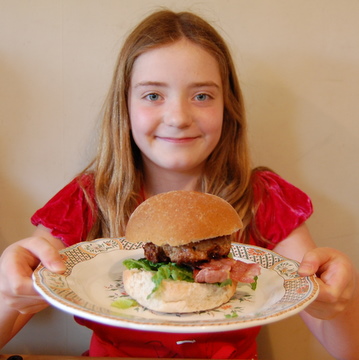 ---
27th Apr 2008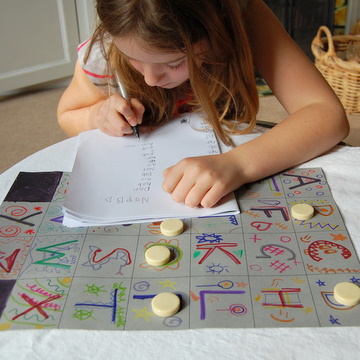 Jane: I've always loved playing word games but have a hard job to get anyone else in the family interested. They'd rather play Apples to Apples (great with lots of people) or current hot favourite 221B Baker Street (a retro Sherlock Holmes mystery-solving board game where the detecting is surprisingly hard). So this weekend I concocted a word game which pretends at first that it isn't a word game because it involves lots of colouring in. I've called it Alphabet Soup and it's really simple for all ages over about five to play.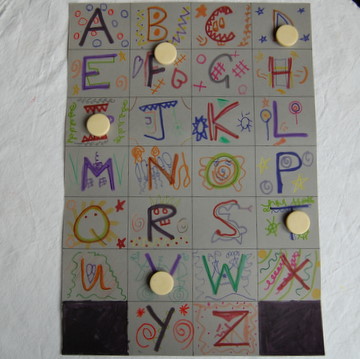 First you draw the letters of the alphabet on a sheet of A3 paper and ask the children to decorate them so they look beautiful. One person then rolls five counters on to the paper to land on different letters (younger children can choose just three letters to make it easier). Everyone writes down these letters at the top of a piece of blank paper. The person who rolled then chooses two extra vowels which are added to the list, to give seven letters in total. The idea is for everyone to make as many three-, four-, five-, six- and seven-letter words as they can from these letters. You can put a 10-minute time limit on it, or just wait until everyone has finished playing – it doesn't usually take long.
Some letter mixes are so tricky you can hardly make any words, while with others you'll have columns of three- and four-letter words piling up. It's good fun and great for learning how to spell those tricky 'don't sound-like' words – for example we discovered that 'jem' is spelt 'gem' and that although 'more' is 'more' there is also another kind of 'maw' as well...
---
22nd Apr 2008
Jane: It's St George's Day today and duh! I only realised when I heard it mentioned on the radio this morning. In England, we've always been a bit low-key about celebrating our patron saint's day compared to Wales (St David's day, 1st March), Scotland (St Andrew's day, 30th November) and Ireland (St Patrick's day, 17th March, when even the rivers turn green…). But this year things are different – the red and white flag is flying over 10 Downing Street and the whole nation seems to be celebrating. So I thought I'd dash off a quick red and white cake in honour of St George and his Dragon.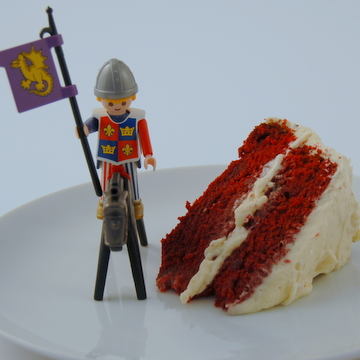 ---
16th Apr 2008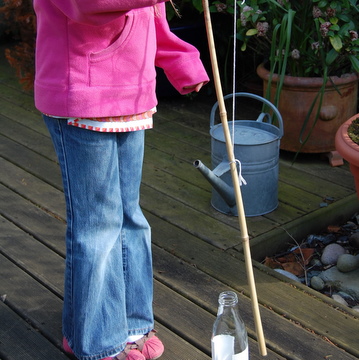 Jane: Today Edie and I braved the bright blue chill of outdoors to play a game called Stick & Bottle. The game came from a 1960s' party book and looked easy, we thought, until we started playing it. It was a gusty day, which I wouldn't mention except when you're trying to ease a long stick hanging from a string into the narrow neck of a glass bottle, every little whimper of wind can send you askew.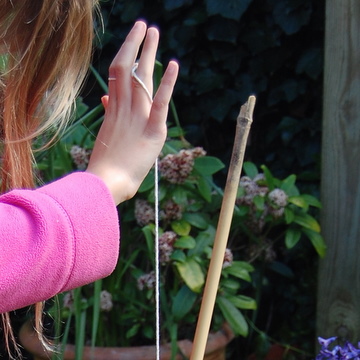 We choose an elderflower cordial bottle with a wide neck (rather than a narrow milk bottle) to maximise our chances, and dug out a piece of old bamboo garden cane from the shed. The idea is to tie the string exactly in the middle of the cane, so it doesn't naturally tilt down at one end. I tied Edie's index finger tightly on to the other end of the string, then checked my watch and timed how long she took to get the rod into the bottle.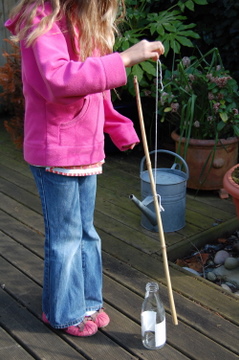 The first go was tricky. The cane was wobbling all over the place and intense concentration and steady arms were needed to hold and tilt it in. The wind didn't help: every time she was about to tip the end over, a gust blew and she let out a frustrated shriek. Time: 2 mins 24 secs.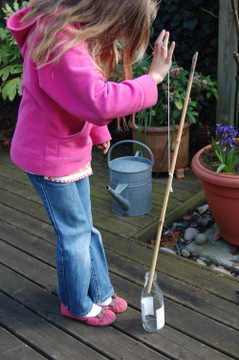 By the second go, she'd got the hang of it. There's a method: you walk over, let the rod swing round for a few seconds above the bottle until you've got your eye in, then quickly drop the end in. You might need a couple of goes, as she did here. Time: 25 secs.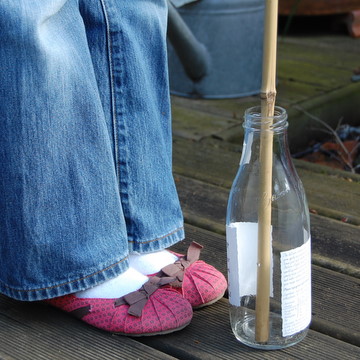 By the third go, with a lot of luck and very little wind, it was down to 7 secs. Now that's what you call speedy, Edie.
---
3rd Apr 2008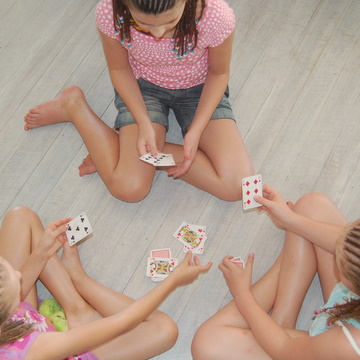 Jane: the children have become addicted to a new card game. Well, two actually. The first is rummy, the second is a very engaging game called Oh Hell! which we've renamed Darn 'n' Dash because everything can go wrong in an instant and when that happens I always shout 'darn and dash' very loudly and it caught on.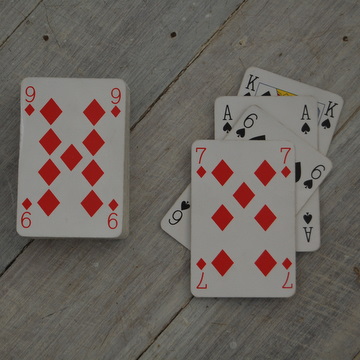 It's a good game for everyone in the family to play, over the age of about eight. It's basically like whist – you win tricks and there are different trumps each round – but you have to guess beforehand how many tricks you'll win per hand, and only score points if you get it right. That can be surprisingly tricky and means you have to learn how to lose hands as well as win them, which can be quite a challenge. The excitement builds in every round because everyone starts with a single card in the first round, then gets two in the second, three in the third and so on until you get a full hand of 10 or more cards (depending how many people are playing). At the end you tot up your scores (which makes this good for maths too) and the person who has the highest wins.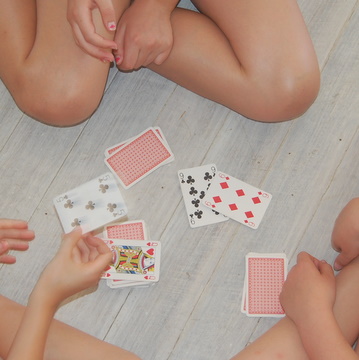 It's been great playing it but even better watching the kids sitting on the floor in a circle several times a day, shouting and laughing excitedly as the hands go down and they win or lose – and losing hands can bring as big a shout as winning, while winning can bring a disappointment if it means going over the estimated number of successes. You never know if a 'darn' or 'dash' is for a winning or losing hand…
---
30th Mar 2008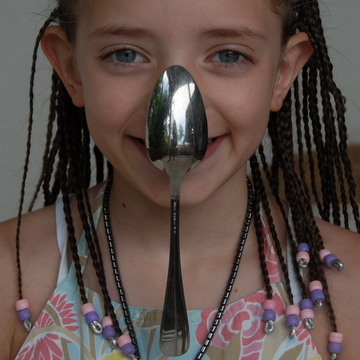 Jane: We were sitting round at dinner the other night when Maudie hung a dessertspoon from her nose – a very funny sight. It was quite a large, heavy spoon, the bowl fixed to the end of her nose with the handle dangling down, and it stayed there for a good 15 seconds before it fell off. So immediately everyone started trying to hang spoons off their noses.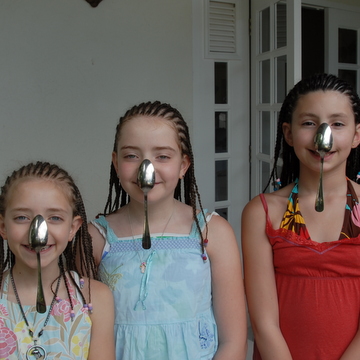 Edie, Carla and Maudie could do it really easily, while the rest of us found it impossible.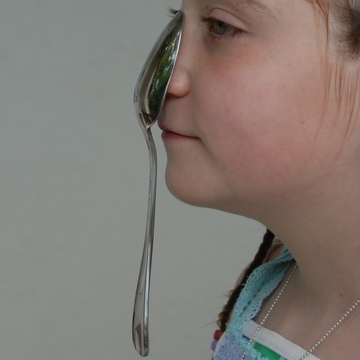 In fact, Maudie could just put a spoon on her nose and it would stay there like a magnet, while the adults tried rubbing them, breathing on them, warming them in our hands so they stuck better, but it made no difference – they fell off in about half a second.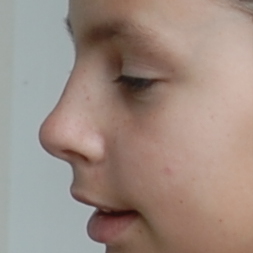 We came up with a few wild theories – could it be the round shape of the girls' noses, or the fact they have a soft not bony tip at the end, unlike the adults? Was it something to do with a spooky spoon-attracting substance under-11s have on the end of their noses? Weird – we'd love to hear if your kids have this strange talent too…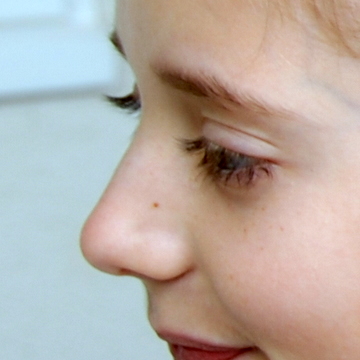 ---
27th Mar 2008
Jane: Forget about buying expensive kites – today with the help of Alex, who's been making kites since he was a kid, we learnt how to make an excellent  kite from scratch using a bit of paper, some cotton, a couple of wooden kebab sticks and a few old plastic bags. It is pretty easy. First the kids cut out a small rectangular bit of paper each, and drew a design of their choice on each one.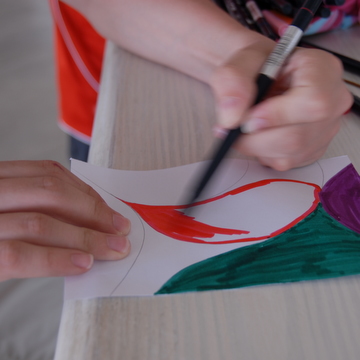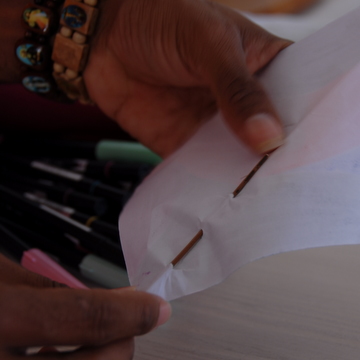 Then as if you're sewing, thread a thin wooden kebab stick or skewer along the length of each crease.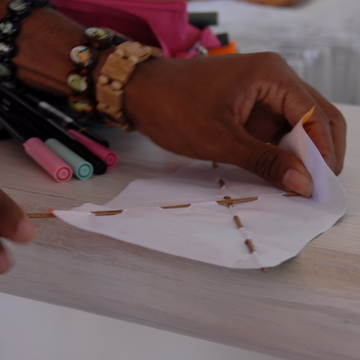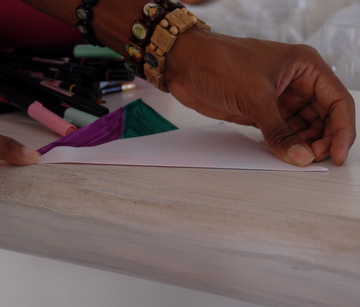 Fold the paper opposite corner to corner so you get two criss-cross creases.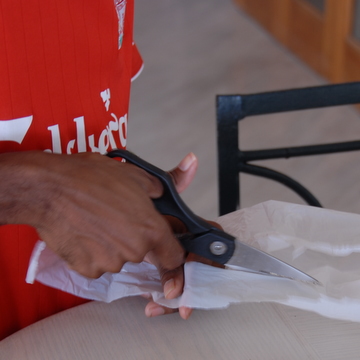 To make the hanging end of the kite, cut up old plastic bags into long strips and tie them together in a tail about 12 to 15ft long.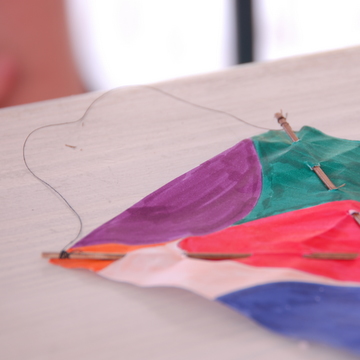 Tie a short piece of cotton (we used polyester cotton which is tougher) to the bottom corners of the kite and attach the tail in the middle so it hangs down.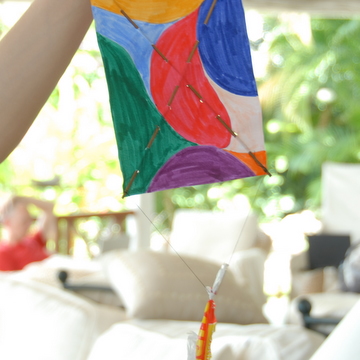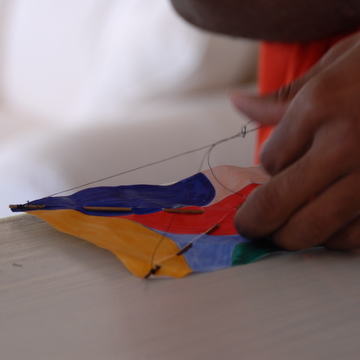 Then cut three bits of cotton about 15cm long. Tie one to the centre of the two kebab sticks. Tie the others one on each top corner of the kite. Then join these three strands of cotton together in a knot at the other ends to form a pyramid.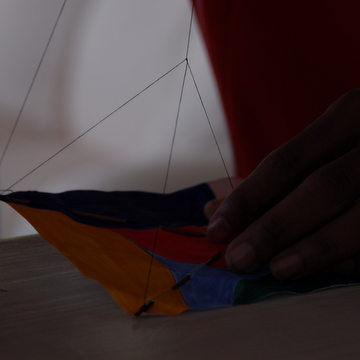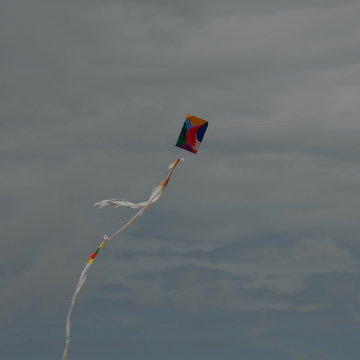 Tie the long reel of cotton to this central knot and allow to unreel. Get someone to throw the kite up into the wind – you control it by unreeling the cotton as far as you can. If the kite keeps falling to left or right, the tension in the pyramid made by the thread might be slightly askew – there is a bit of skill involved in getting this right and you might need to fiddle around with the lengths. Once it's up and flying, Alex ties it to the washing line and leaves it to zoom around the sky all night. Quite brilliant!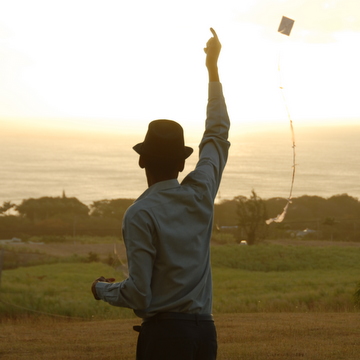 ---
12th Feb 2008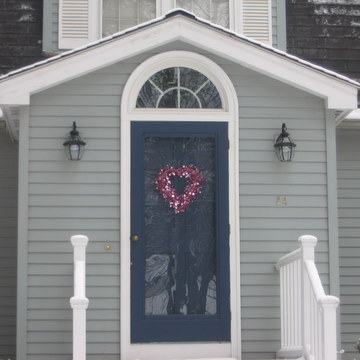 Jane: Wandering around snowy New England over the weekend, I saw these heart-shaped Valentine's wreaths on people's front doors. What a cute idea. These ones were very pink and red and glittery, and would be easy to make one with greenery from the garden with some red berries, ribbons and little heart motifs…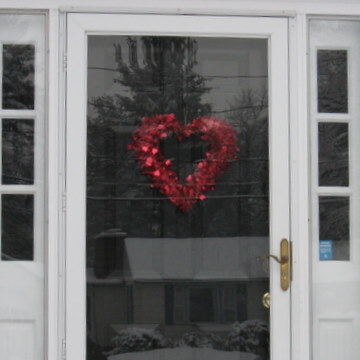 ---
29th Jan 2008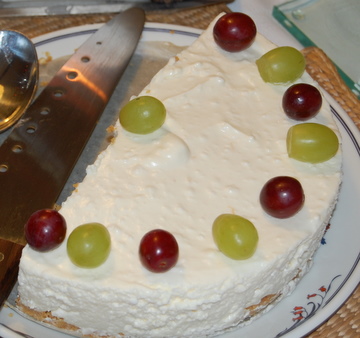 Jane: Food for me is inextricably bound up with childhood memories and emotions, which is why I love prunes and custard, beans on toast, smooth oatcakes and will happily eat muesli for breakfast for the rest of my life. I was reminded of this a while back when we went for lunch at the home of snail porridge and bacon and egg ice-cream - the very posh Fat Duck in Bray. What struck me was not how sci-fi the food was (though it was), but how it delighted my nostalgic foodie yearnings. There were sherbert fountains in those old yellow packs, licorice, tiny cornets… and on the table, a questionnaire asking us to try and remember our favourite flavours from childhood. Mine, I remember writing, was tinned Del Monte peaches with evaporated milk, which we used to have for Saturday tea.
---
19th Jan 2008
Jane: We're thinking of putting out a Heart & Home book next year and when Mal told a publisher friend of his called Valerie, she immediately sent him '44 Things' by Kirsty Gunn, a collection of thoughts, anecdotes and poems celebrating the happy chaos of her family life with two young daughters. Val suggested one poem in particular called 'Sweeping Up Stars' would make a great introduction to our Heart & Home book. Robert Frost always said a poem starts with a lump in the throat, and Kirsty's poem (reprinted below) did it for me…
---
13th Jan 2008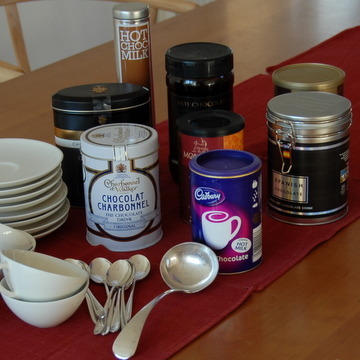 Jane: After a winter walk, what everybody in our house wants is a big steaming mug of hot chocolate. Trouble is we can't agree on one we all like. At the moment, we're ploughing through a huge pot of Green & Blacks which I find milky and cloying but the kids happily quaff. Tamsin and I were talking about whether there was such a thing as the perfect cup of hot chocolate and decided to find out by doing a taste test, with adults and children giving marks out of five for a variety of brands from Cadbury's to Chocolat Charbonnel, which looks gorgeous in its chunky tin but tastes... well, read on…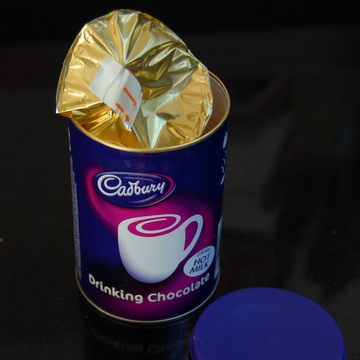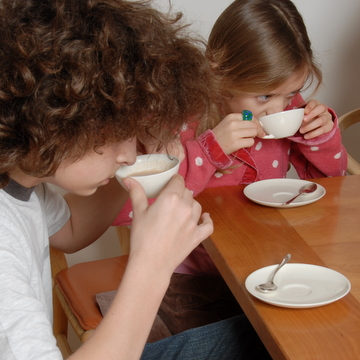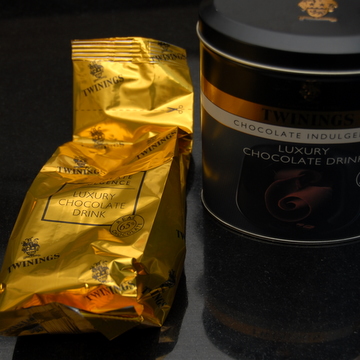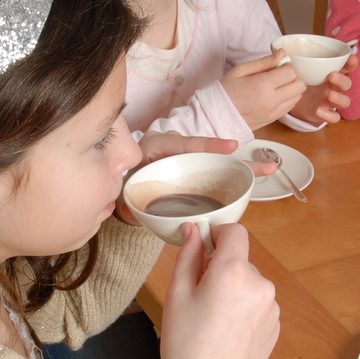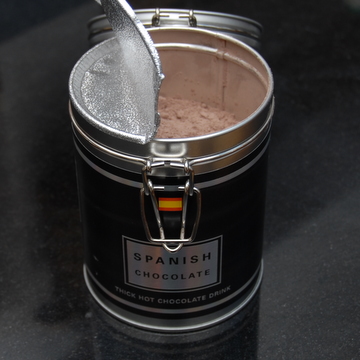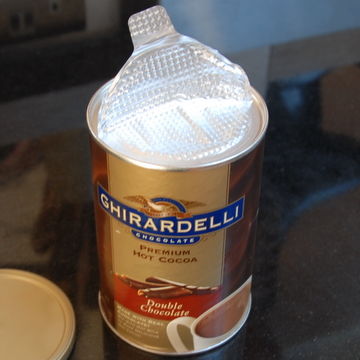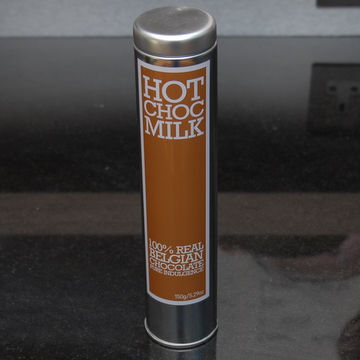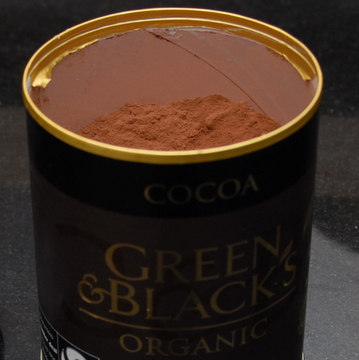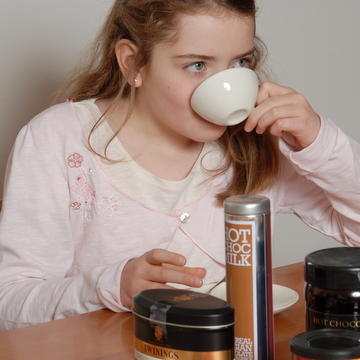 ---
20th Dec 2007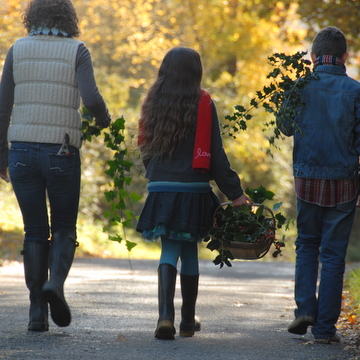 Jane: The 21st December is the shortest day of the year, and it used to be a huge celebration when people lit fires that burned all day and night, carrying over the flame from one log to another – a tradition we still honour today in a weird kind of way by eating chocolate Yule log. It was also the day when the halls finally got decked with holly and other evergreens, picked because they symbolise the eternal cycle of life. In our road, everyone's already got their trees, decorations and lights up and they look stunning (if very, very white this year). But I always like to crank up the excitement for the kids by leaving the whole decorating thing until the last minute.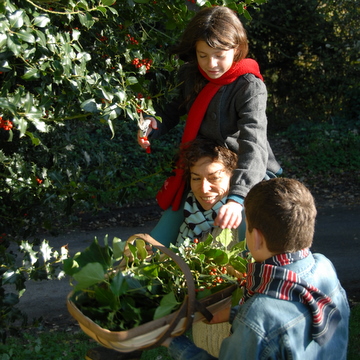 So we're going out for a greenery walk to bring back swags of red-berried holly, ivy, bay, rosemary and laurel – and then we'll head to the market to find mistletoe and hopefully some eucalyptus boughs with berries, which smell marvellously invigorating (rather like upmarket cough sweets) hung all around the house. It's only then I feel the countdown to Christmas really has begun...
---
17th Dec 2007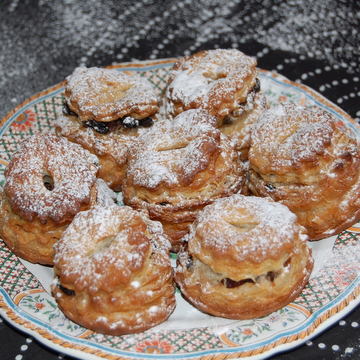 Jane: I'd always vaguely known that mincemeat used to contain meat – hence the name – but I'd never thought of making real meat mincemeat for Christmas until this year, when I was reading Paul Levy's foodie history, The Feast of Christmas. He has a bit on mince pies and at the back quotes the 1604 mincemeat recipe of Lady Elinor Fettiplace, which sounds almost like a samosa or spicy pasty, containing the same amount of meat and suet as dried fruit, plus spices like nutmeg and mace, a bit of salt and almost no sugar at all – very different from today's sweet mince pies.
Still, they must have been pretty fruity because just a few years later the Christmas-hating Puritans took to calling mince pies 'idolatrie in crust'. Which 400 years on, sounds like a very tempting reason to give them a go.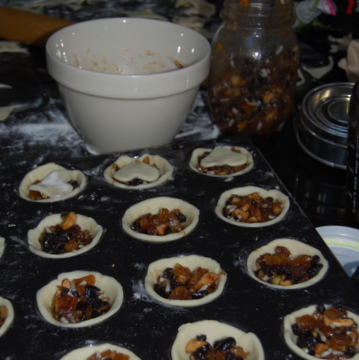 ---
8th Dec 2007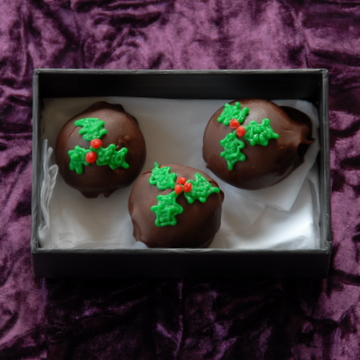 Jane: Christmas isn't Christmas for me without a panic about presents. In our family, almost everyone has birthdays in November and December (including 21st Dec and Christmas Day itself) – so the idea of just going 'Christmas shopping' sounds an incredible luxury. We're still bogged down in birthdays as the turkey hits the table. As a result, all questions about what the children are going to give relatives/friends/teachers are easy – it's got to be homemade, otherwise we'd go mad and no doubt bankrupt too.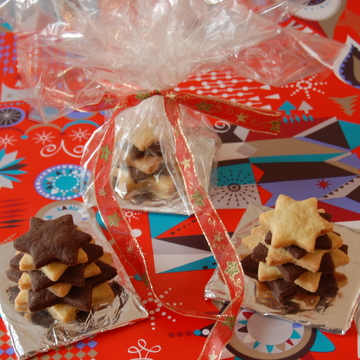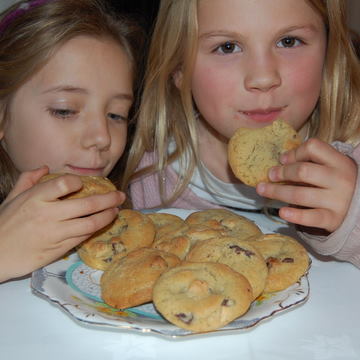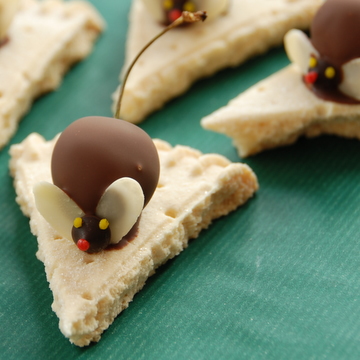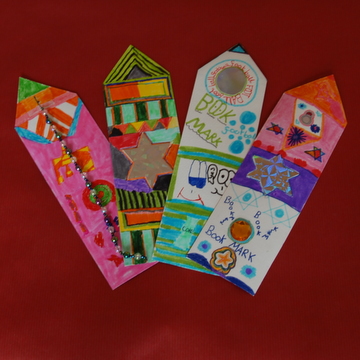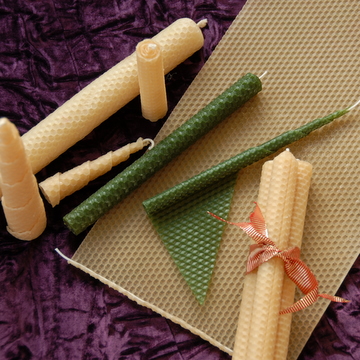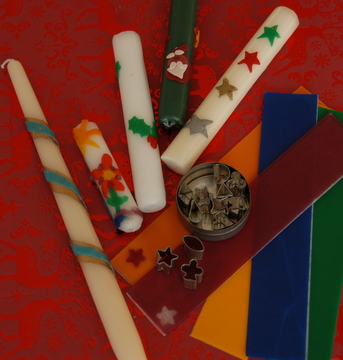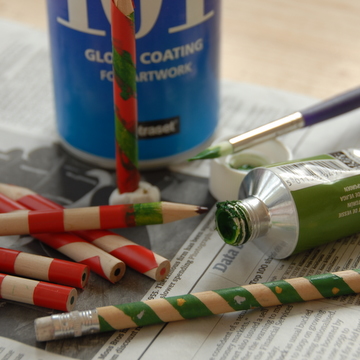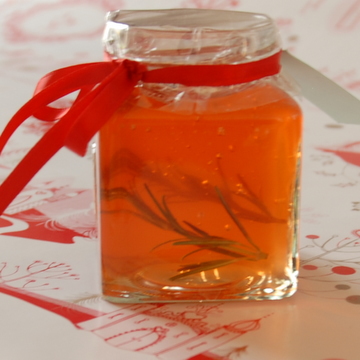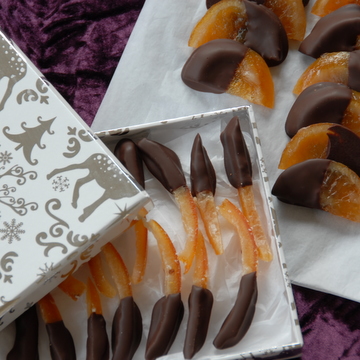 ---
13th Nov 2007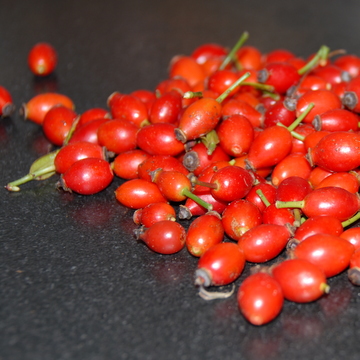 Jane: In the winters when I was little – four or five, says my mother, though that seems too young to recall a memory this vivid – my brother and I were given a daily spoonful of rosehip syrup. It came in a big bottle with a white plastic flip-up top, the scarlet syrup as sweet and luscious as anything I'd ever tasted. My mum says she bought it specially at the chemists for its high vitamin C content, to ward off winter colds and coughs. Other kids remember the grim slurp of cod liver oil, but we were lucky, we got red nectar instead.
This year, on a walk through the autumn hedgerows, somehow, for some reason, picking rosehips suddenly seemed like a powerfully good thing to do.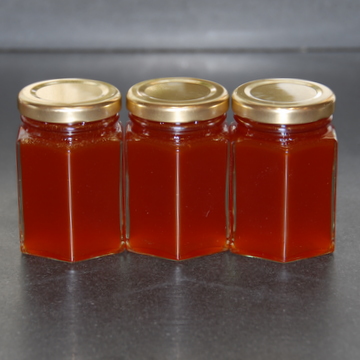 ---
3rd Nov 2007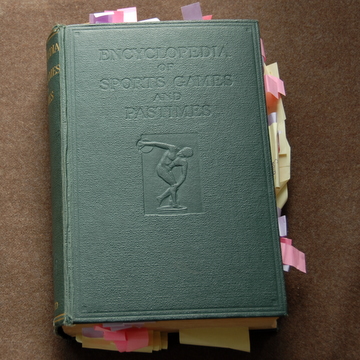 Jane: The celebrations come thick and fast at this time of year. No sooner have the spooks of Hallowe'en disappeared than Bonfire Night is upon us. In London, we used to invite another couple of families round and light fireworks for the children in the garden. But it always felt a bit risky and after a Catherine wheel burnt dark holes in a fence post, we gave up the homemade displays and went to a nice, safe municipal one instead. Sparklers were as risky as it got.
So I was a bit stunned to read about people making their own fireworks.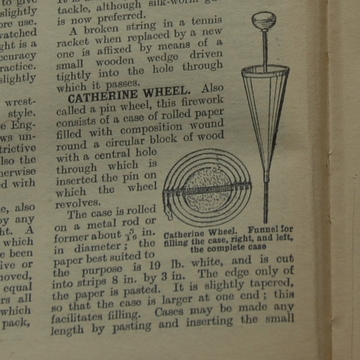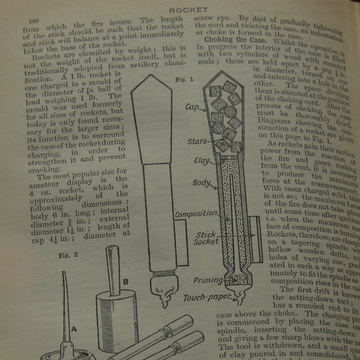 ---
14th Oct 2007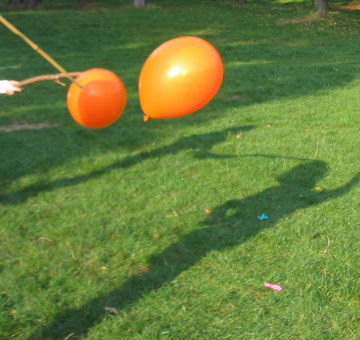 Jane: In our downstairs loo, there's a pile of Mal's old secondhand books I've always ignored. But a while back when we were talking about old party activities we used to play, he pulled out one of these tattered tomes and handed it to me triumphantly. It was a 1960s book full of daft party games for adults and children - the sort you just know, no excuses, you're going to have to try out. So yesterday we had a go at Balloons within Balloons, a slightly more complicated version of balloon popping, with a group of Maudie's friends.
---
3rd Oct 2007
| | |
| --- | --- |
| Gaia's Courgette Birthday Cake | |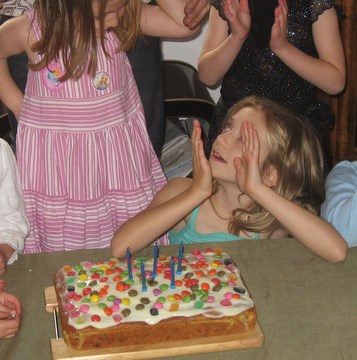 Jane: It was my niece Gaia's 5th birthday and her mum, my sister Joanne, decided to make a tempting but healthy batch cake for the party. That meant introducing one of the mandatory five-a-day veggies (though a dietician I recently talked to suggested nine a day was more like it) into the cake. Carrots were out (five-year-olds can spot them a mile off), so Jo thought to tap into the latest craze – courgette cake. Subtle, green and mysterious.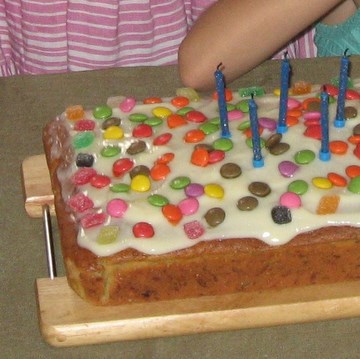 ---
30th Sep 2007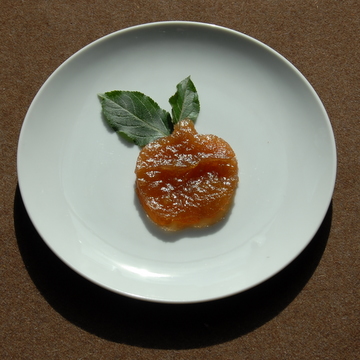 Jane: Pinch, punch, first of the month, and Hallowe'en suddenly seems very close indeed. I've been pondering what to give the trick and treaters – usually I buy multi mini-packs of chocolate bars to dole out, but this year I want something seasonal, home-made and a bit more wholesome. In one old book, I came across Apple Candy, simple and pure, just apples and sugar. You core and quarter the apples (leave the skins on), and simmer in water until they're pulpy. Drain and puree them, then add as much sugar as there is apple puree. Simmer for an hour until it turns into thick jam. Then mix in a tablespoon of rosewater and put in a baking tray to cool.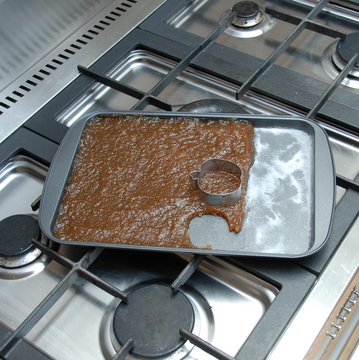 ---
26th Sep 2007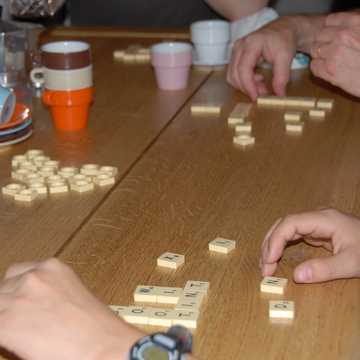 Jane: This is a brilliant, quick and portable version of Scrabble which doesn't use the board or any clever long words, so you can play it anywhere, any time and with anyone (over about six). In fact, it's so quick and unobstrusive that we recently managed a game while waiting for our main course in Pizza Express.
All you need is to clear the decks and lay out a set of Scrabble or Snatch tiles in the middle of the table. Each person takes 15 letters and, as quickly as they can, forms their own set of interlocking words crossword-style as in Scrabble. (You are allowed two-lettered words, which makes it easier for younger kids.) The first person to organise all 15 letters into interlocking words shouts 'Time'. Then everyone stops and picks up a letter. Then the first person to fit all 16 letters shouts 'Time' and you all pick up another letter - and so on until all the letters in the middle are used up.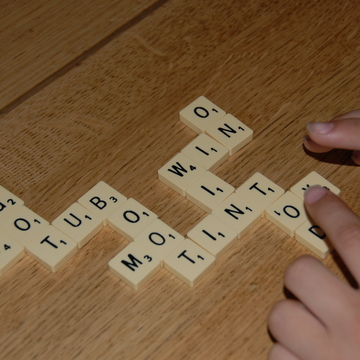 ---
14th Sep 2007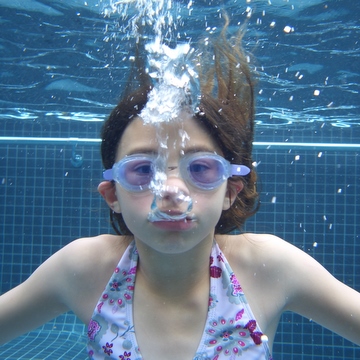 Jane: My last memory of using an underwater camera was 20 years ago in Florida. It was my brother's (he lived there) and it was big and clunky and, even in those crisp blue waters, the images were mostly of murky blotches of wetsuit with the occasional blurred parrot fish floating by, due to slow shutter speeds, or something like that.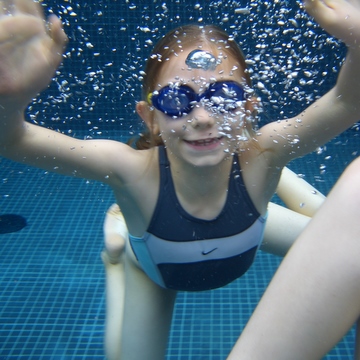 ---
9th Sep 2007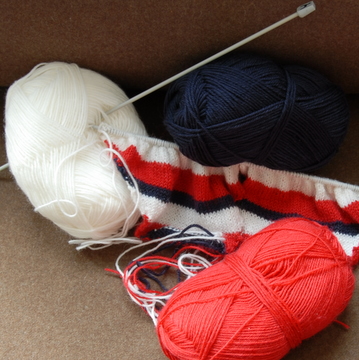 Jane: I've just started knitting a swimsuit. I know, barmy. The notion took me while I was flicking through an old encyclopedia I found in a five-floor secondhand bookshop in Derbyshire. The book is a period piece of hearty games, sports and activities from the 1930s. For example, before you start bathing in the sea, it suggests you make your own swimsuit, bathing cap and bathing shoes, plus a bathing tent with wooden struts covered in canvas ('designed to stand considerable wear and yet be quite portable') in which the whole family can, without indecency, change on the beach. What natural handymanship: it makes me nostalgic for an age I never knew.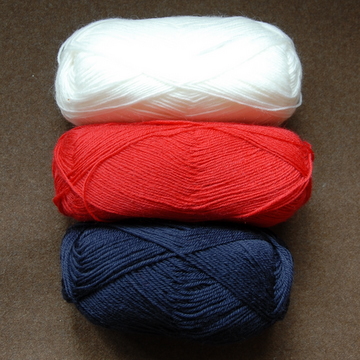 ---
11th Aug 2007
We've just been on the beach playing Beach Flower Pots, which was probably invented for 'It's a Knockout'. Form teams of two, choose the lightest and most poised member of your team to be the flower pot jockey and then race each other across the sand without touching it with your feet by stepping on buckets (or you can use heavy stones, but that's much harder). You need three buckets per jockey – we just used cheap plastic ones we found in a shop on the way down to the beach.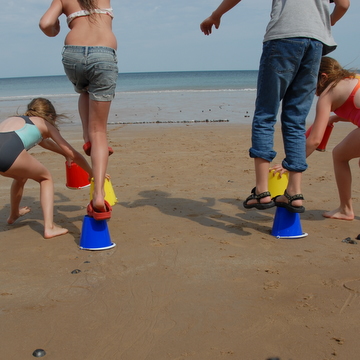 First lay out a start line and a finish line of stones - ours was only about six metres apart but at times it felt like 100. Each jockey has three buckets on the start line, and on the shout of 'go!' each jumps on two buckets, while the flower pot mover bends down and moves the other bucket forward so the jockey can step on it and the back flower pot gets moved in front for the jockey to step on.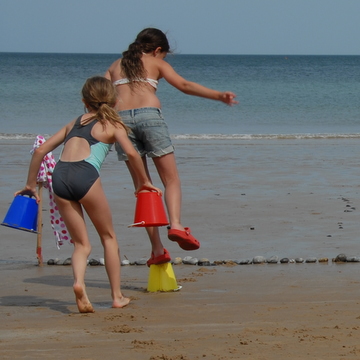 You need good balance and it helps if you wear beach shoes (yet another use for Crocs…). If a jockey falls off, they have to get back on the bucket before the fall and start from that spot again. Needless to say there was some dispute over what constituted a 'fall' and there were some long steps over the finish line without a bucket, but it was great, noisy fun.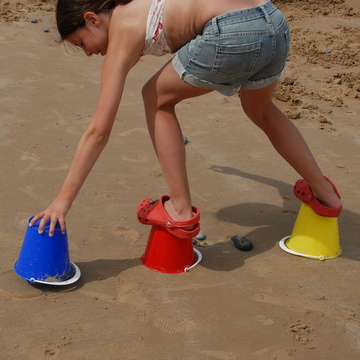 Then the kids had a go doing it by themselves. They each had to pick up their own bucket and move it forward, bending down and almost sitting on their haunches on the buckets to reach forward. It was slower and needed lots of control. Everyone was cheering on the sidelines (in a strictly non-partisan manner, of course).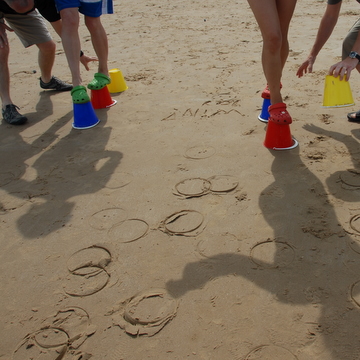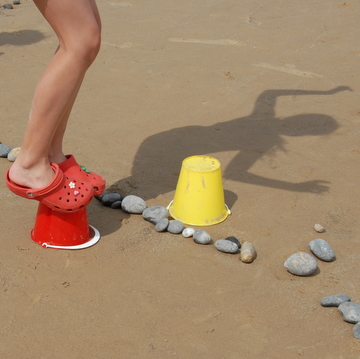 ---
24th May 2007
| | |
| --- | --- |
| Elderflower Cordial (Blog) | |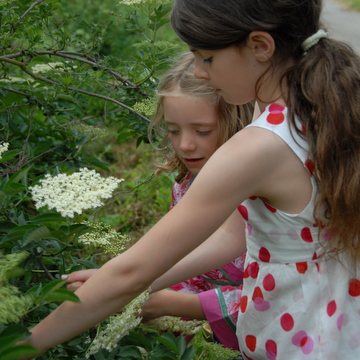 It's elderflower season again, way earlier than last year. I know because we spent last summer half-term in the Loire valley where the elderflowers were already in bloom, a week or two ahead of Britain. We picked a load of them there, and made elderflower cordial in a kitchen where the ants followed the smell of sugar in a trail across the window ledge - then climbed up into the bowl and drowned, poor things, in the liquid. I had to handpick most of them out.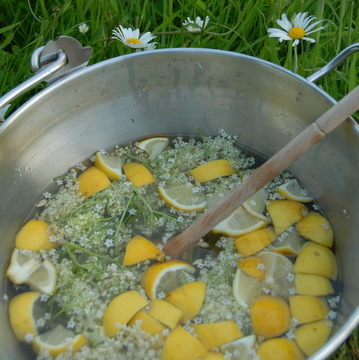 ---
4th May 2007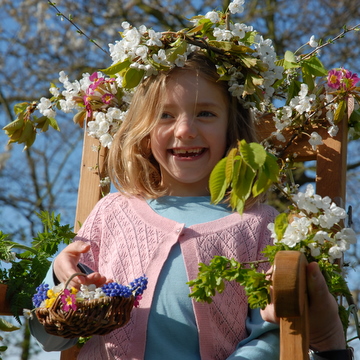 We're now into summer. It's official. The cow parsley's out, the hawthorn and blackthorn are blossoming, gardens and green places are boisterous with birds and bees. May the first was actually the start of this splendid new season, though blink and you may have missed it because nobody's celebrating May Day this year until the bank holiday weekend. And probably not much then, because the old May Day traditions are all dying out.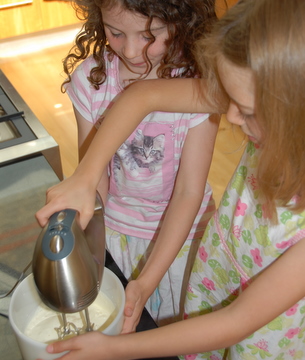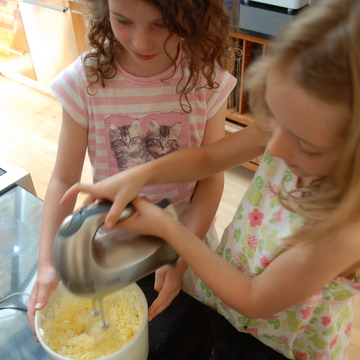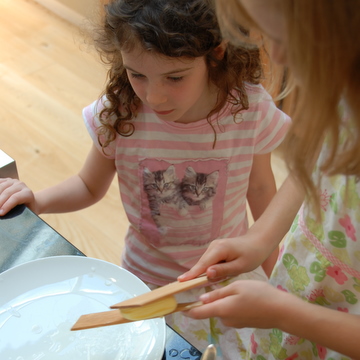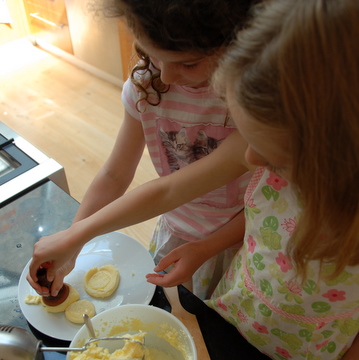 ---
1st May 2007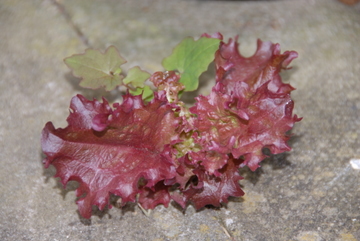 I like Lollo Rossa, the words as much as the lettuce. I like the way the letters roll exotically around your mouth as you say them. Green oakleaf, on the other hand, sounds more down-to-earth, solid and British empire. Combine the two, and what you have is sitting right on my patio, growing up between the cracks of the paving slabs, fighting for space among the dandelions, couch grass and other weedy intruders that normally fill these tiny crevices.
---
8th Apr 2007
To Scotland on the train with the kids for the Easter hols. We were staying with friends who live in Carnoustie, the small coastal town where this year's Open golf championship is happening and a few miles from St Andrews where I spent four happy (ish) years at university.
---