31st Aug 2008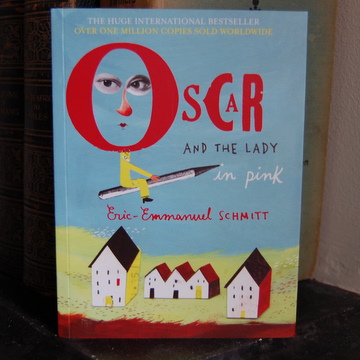 Maudie: I've just read 'Oscar and The Lady in Pink' by Eric-Emmanuel Schmitt. Oscar is a ten-year-old boy who is living in a hospital because he has leukaemia and the doctors can't cure him. He makes friends with an old lady in pink he calls Granny Rose, who comes to the hospital to play with the sick children. She used to be a lady wrestler, and he likes listening to her stories about all the strange opponents she used to fight. Granny Rose encourages him to get to know the other children like Peggy Blue in the hospital     
and also suggests he write a letter to God every night, because it would make him feel better and less lonely. Every day was like a decade for him, so each night he could write about what he'd done during each day/decade. He runs away to Granny Rose's house for Christmas and she helps him make it up with his parents who'd been terribly awkward with him because he was going to die.
I really liked the book because Oscar was so funny and brave and made the most of his life before it ended. But it was also very sad – my mum cried by page 10. I would recommend this book to children over eight.
---
23rd Aug 2008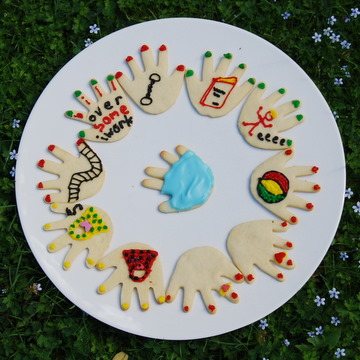 Tamsin: Last year we made Biscuit Feet (see blog 6th August 2007). This year I decided to do Biscuit Hands using the hand-shaped cookie cutters I've had at the back of my drawer and never used. I made the same shortbread dough as for the feet, since it keeps its shape so well. When the biscuits were cooked we decorated them by thinking of all the words or phrases that had a prefix of 'hand'.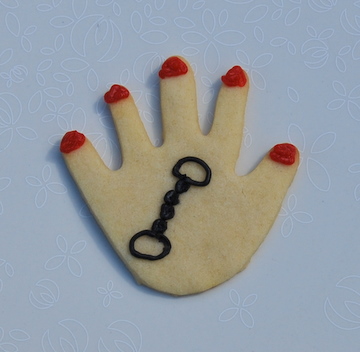 Handcuffs...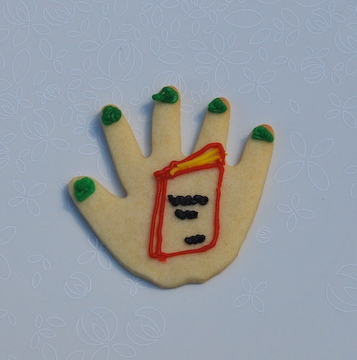 Handbook...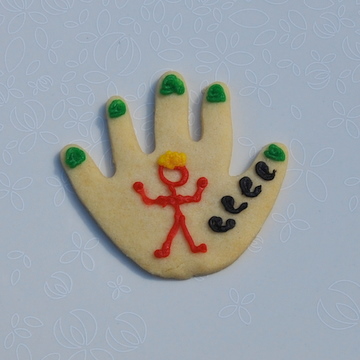 Handyman...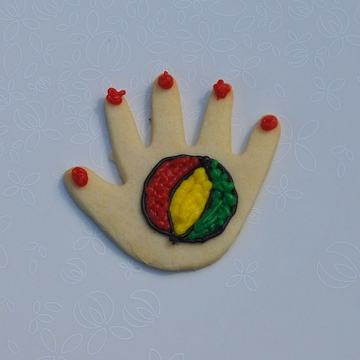 Handball...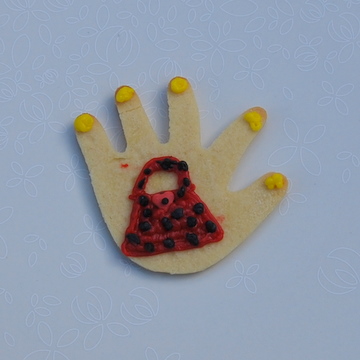 Handbag...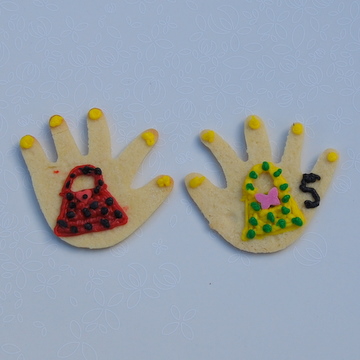 More handbags...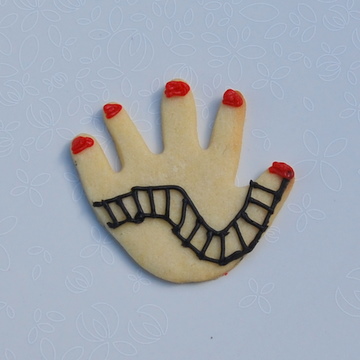 Handrail...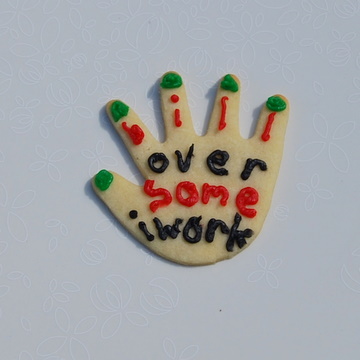 Handwriting...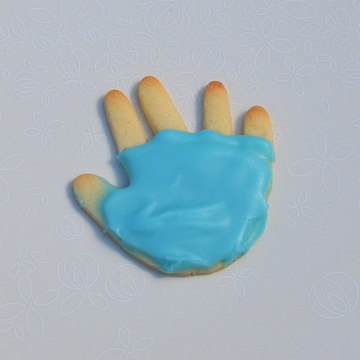 Handful...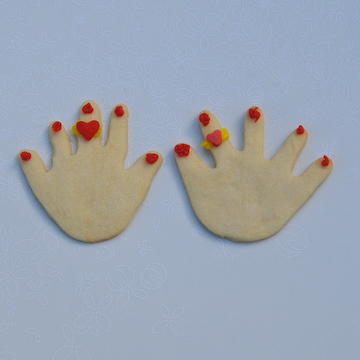 Carla just did these so she could put some pretty rings on.

---
20th Aug 2008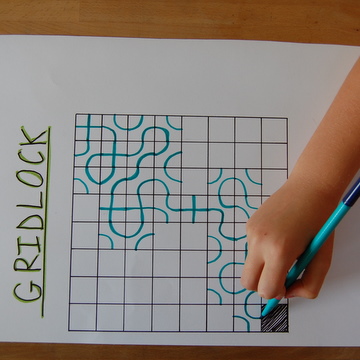 Jane: After being rained off the beach for the nth time this drippingly awful week, we decided to play Gridlock, a paper and pencil game for two I found in an old 1960s' activities book. It's actually quite tricky to play - the idea is to 'draw' your way from 'home' (the cross in the top left hand corner of the grid) to your destination square (the bottom right hand corner of the grid) without being forced out of the grid by your opponent.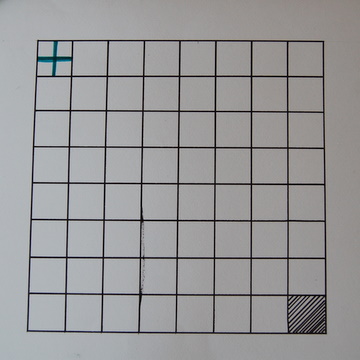 First you take a sheet of squared paper, or draw a square (as we did here) with at least eight smaller squares on each side. Fill in the top left hand corner with a cross, and black out your destination square - the bottom right hand corner. You then have to draw your journey square by square, each player taking it in turns to fill in one square at a time.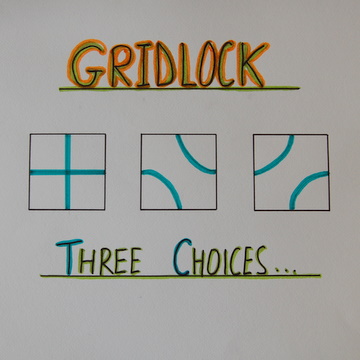 There are three possible ways to fill the squares - see the three choices above. You can choose any one you want (except on the very first go, when the first player cannot use the cross) so long as you attach it to an existing line.
Keep filling in squares turn by turn and you will see a 'snail trail' building up through the middle of the squares you have coloured in on the grid. All the while, you are trying to push your opponent into a position where they have no option but to 'draw' themselves out of the grid - leaving you to reach the final destination alone.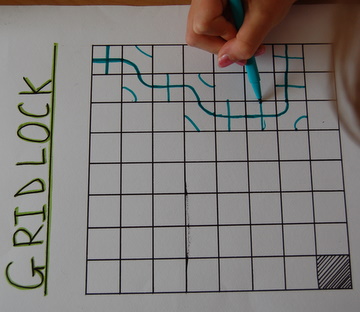 The picture above shows one of our first attempts - you can see the central 'snail trail' leading out of the top of the square, thus losing the game for the player who filled it in. Instead, aim to loop the trail back around itself (see the first image above) to manoeuvre yourself to the 'destination' square, timing it so you, and not your opponent, draw in the final square and thus win the game.
For some other good wet weather games, see the 'games' section of the Den.
---
14th Aug 2008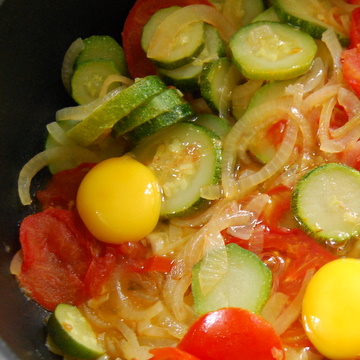 Tamsin: This has no other name, so if my son asks me, 'What's for lunch?' and I reply 'The Courgette Dish', he knows exactly what it is.
The origin of this dish is Chilean, since the recipe was given to my mother by her Chilean friend, Lucila. This was in the late 70s and ever since, it has been a family favourite, often made on summer evenings after our return from the beach and a freezing swim.

At this time of year courgettes are at their best and serving them just as a side vegetable does not seem to give them enough respect. The quantities of ingredients for this dish do not really matter, it depends on how many courgettes, onions, tomatoes and eggs you have in the fridge, but I will give a rough guide to help those brave enough to try it, below. The one thing that cannot be messed about with though, is that it has to be served with rice and mango chutney.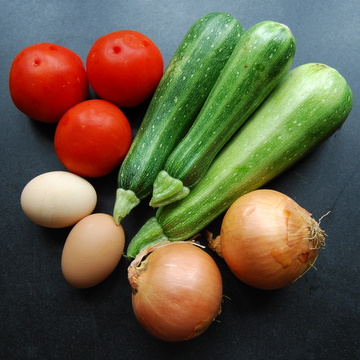 Take 2 medium onions, 3 to 4 largish courgettes, 3 large tomatoes and 2 eggs.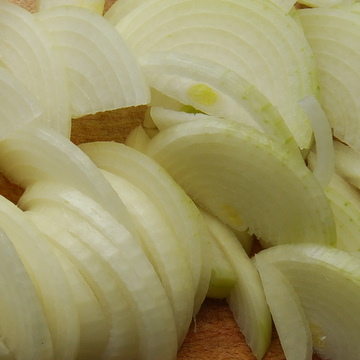 Thinly slice the onion and put in a large frying pan together with a couple of tablespoons of olive oil. Fry gently for about 10 mins until the onion begins to soften.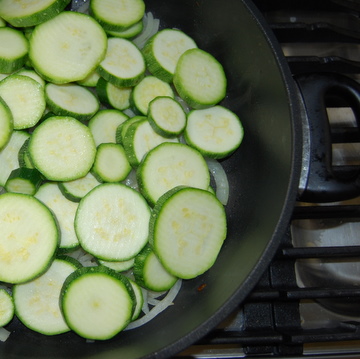 Slice the courgette and place over the soft onion. Turn the heat right down and put a lid on the pan so the ingredients begin to steam fry. Every so often, lift off the lid and turn the ingredients over so that they all get a chance to fry on the bottom of the pan.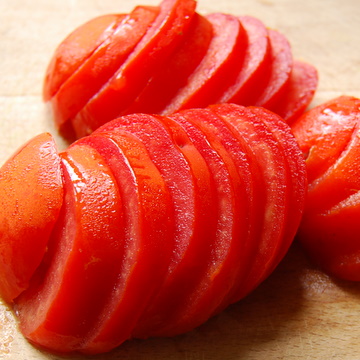 Once the courgettes are cooked, but still with some crunch to them (this will probably take about 15 minutes), add the sliced tomatoes, cover and cook for a further 10 minutes, turning the ingredients as before.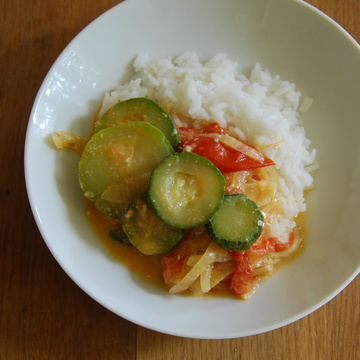 Take the pan off the heat and break in the two eggs. Briefly mix through so that the egg begins to cook and forms a sauce with the cooking liquid. Transfer to table (preferably outdoors) and eat at a leisurely pace.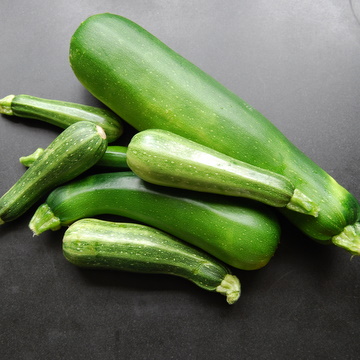 My other tip for cooking courgettes is to grate them, place in a sieve and wring out some of the liquid by squeezing the courgettes in your hands. Fry in olive oil, adding salt and pepper to taste, and serve as a side vegetable.
If any of you have any other great recipes for using courgettes I would love to hear of them, as my plants keep producing more and more and the kids' enthusiasm for them does begin to wane.

---
6th Aug 2008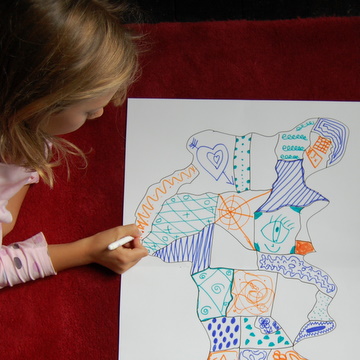 Jane: It's been raining on and off for days here, and after two trips to the cinema to see Mamma Mia! and Kung Fu Panda (both very cheering), we wanted to play some indoor games instead. As it's the summers hols and we didn't want to stretch our brains too much, we decided to play a game which involves a bit of thinking and a lot of colouring in, called Continental Drift. It's good for all ages – little ones really enjoy the colouring in – and for two or more players.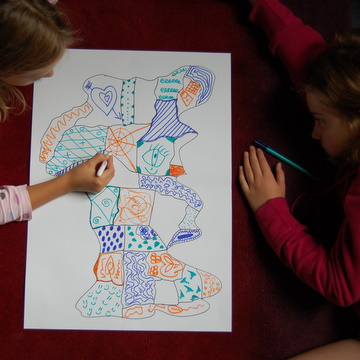 All you need is a big sheet of paper, on which someone draws a map of an imaginary continent – any shape and however wiggly you like. Inside this continent, draw 20 or more countries (our inspiration was Africa) with boundaries meeting each other. Then give everyone a different coloured felt-tip pen and you're ready to start.
The aim of the game is to be the last person to colour in the last possible country. The only rule is that no two countries which touch along a borderline can be coloured the same colour.
To start off, a player (Orange) colours in one country (hint: try to pick one which borders as few other countries as possible – it gives you more options later on). The next player (Green) then colours in a country, and so on, with everyone taking turns. Any player who can't go drops out, and the winner is the person who colours in a country last. It's quite a creative, arty game if you draw different and unusual patterns in each country instead of just colouring in – our continent had a big scary eye in the middle…
---
2nd Aug 2008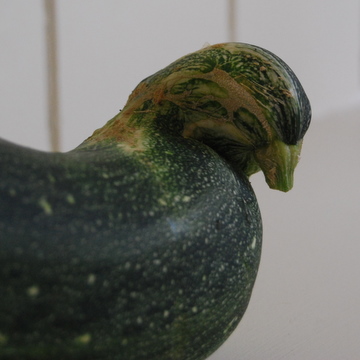 Tamsin: Is it a dove cooing? Is it a duck swimming? Is it a pigeon roosting?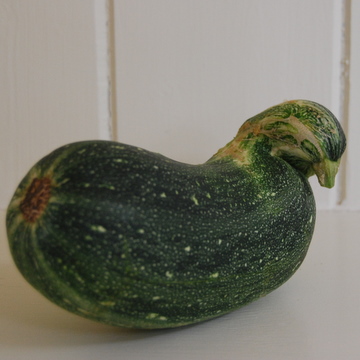 It is the latest silly vegetable that I have found in the veg patch. The courgette season is upon us and I am busy trying to keep up with the daily deluge. This one avoided the pan and is sitting peacefully on the windowsill.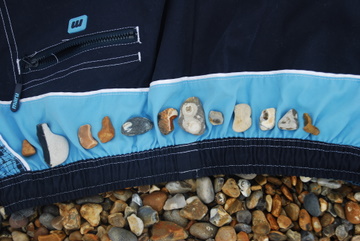 Mike was also sitting peacefully on the beach today as we splashed around in the sea. He was assembling his own stone alphabet, but only got up to 'L' before we dragged him away so that we could warm up after our dip over a mug of hot chocolate.
---